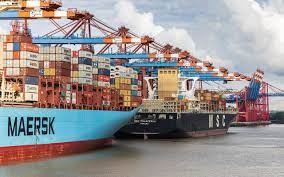 2M Alliance returns to Felixstowe
COPENHAGEN : 2M Alliance, comprising Maersk Line and MSC, will reinstate the Felixstowe port call on its AE7/Condor service, connecting Far East Asia with North Europe.
After the announcement of the temporary removal of Felixstowe from the service in November 2021, the largest alliance in the container shipping market has now decided that its Far East Asia to North Europe AE7/Condor service will return to the major port in the United Kingdom.
"We have identified that overall operational capacity at the Felixstowe terminal has improved and we have confidence that the AE7 service call will prove valuable and reliable for customers," said Maersk in a statement.
The first effective discharge and load call is scheduled for the 14th week on the Monaco Maersk 206W/211E, according to the alliance Danish partner