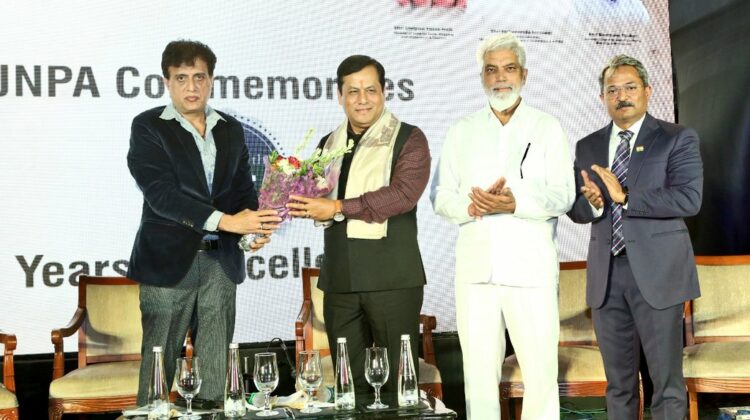 JNPA celebrates 34 years of excellence and achievement
MUMBAI : Jawaharlal Nehru Port Authority (JNPA), India's biggest state-run container port by volumes handled, is completing 34 years of operations today, on 26th May amidst the euphoria created by a recent World Bank report that put it amongst a galaxy of global ports turning around box ships quickly.
Hon'ble Union Minister of Ports, Shipping & Waterways and Ayush, Shri Sarbananda Sonowal addressed the stakeholders, trade & media on the occasion of commemorating the 34th anniversary of JNPA on 25th June.
JNPort has emerged as an epitome of excellence, revolutionizing the maritime landscape with its state-of-the-art infrastructure, cutting-edge technology, and unwavering commitment to efficiency and customer satisfaction over 34 years. JNPA has risen to become one of the most advanced and sought-after ports in the region, handling significant volumes of cargo and serving as a crucial gateway for international trade.
The port located at Nhava Sheva near Mumbai, was originally designed to decongest the decades old Mumbai port nearby and sitting in the heart of India's financial capital.
The rise of Jawaharlal Nehru Port, one of the two youngest major ports, has been nothing but spectacular. It handles more than half of India's container volumes shipped by sea. The world's top three container terminal operators – PSA International, D P World and A P M Terminals – runs facilities at the port, a feature that none of the other Indian ports can boast of. Along with the calling of the world's top container shipping lines at the port to load and unload the steel boxes carrying varied cargo.
The World Bank's Logistics Performance Index (LPI) Report, 2023 came on top of another superlative performance by the port – hitting a record high cargo volume of 6.05 Million TEUs in the year ended March 2023.
The World Bank's observation in its Logistics Performance Index (LPI) Report, 2023 that Jawaharlal Nehru Port turns around box ships in a mere 22 hours or just 0.9 days is a testament to the port management's efforts, ably backed by the terminal operators and other key stake holders, to build a port that can vie with the best in the world in performance parameters.
In keeping with the current trends in cargo handling, the port has also adopted technological tools to manage cargo flows for reducing dwell time and promote ease of doing business.
"J N Port's journey into a world class port has run parallel to India's rise as an economic power. The port has played a very major role in moving goods in steel containers as containerisation became entrenched in global supply chain," said Shri SarbanandaSonowal,Hon'ble Union Minister of Ports, Shipping and Waterways & AYUSH.
"The efficiency and productivity parameters displayed by J N Port compares well with the best in the world. This was made possible through a combination of private partners and port management working as a team to the benefit of India's export-import community," he said.