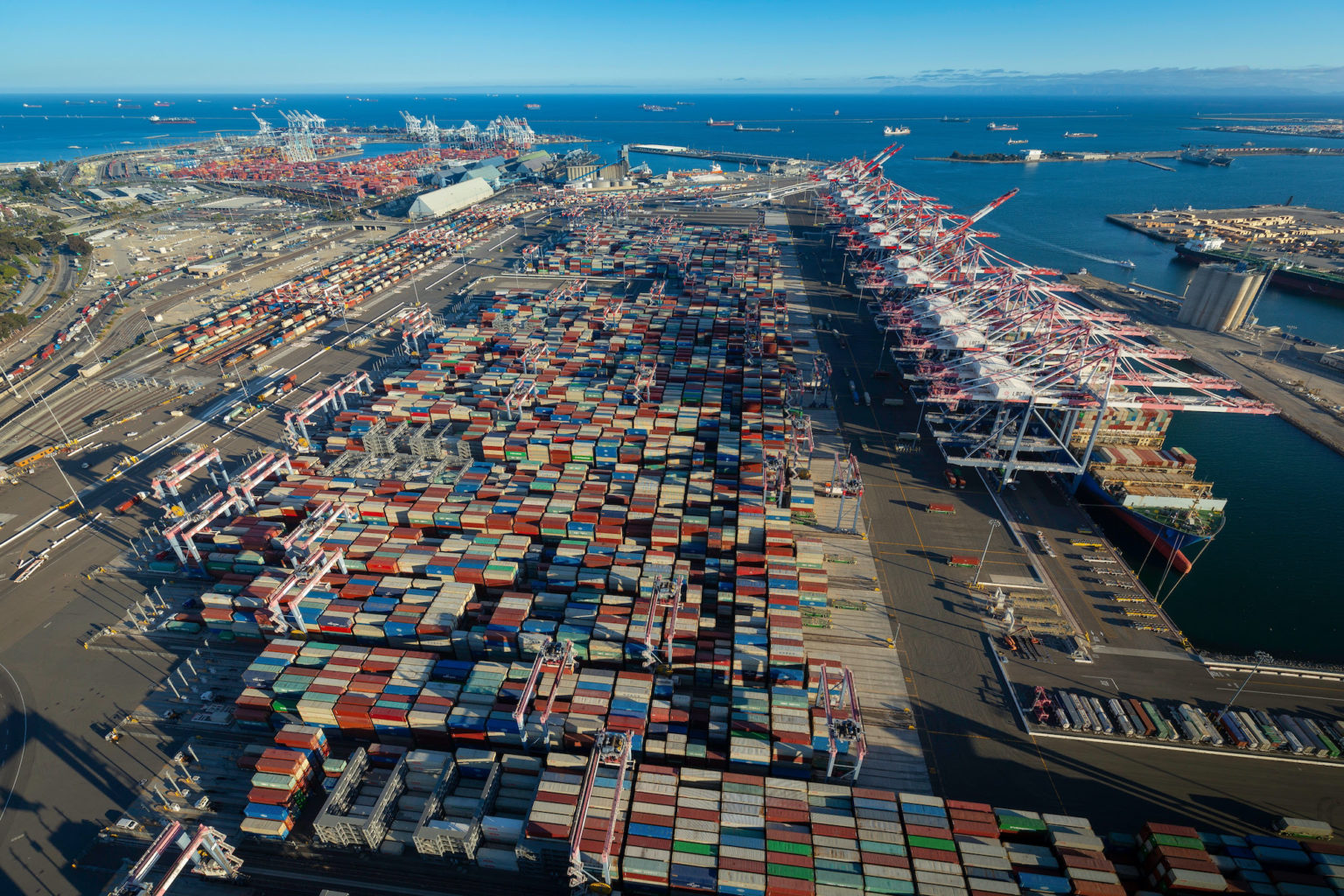 Port of Long Beach and Amazon to collaborate on New Real-Time Cargo Tracking Platform
The Port of Long Beach and Amazon's cloud computing subsidiary, Amazon Web Services, Inc., have agreed to work together on a "cutting-edge new digital infrastructure project" seeking to track cargo from origin to destination in real-time.
The "Supply Chain Information Highway" will aggregate data for companies across industries and sectors, aspiring to maximize visibility and efficiency of cargo movement at the Port of Long Beach and throughout the supply chain, the port said in a statement.
The new system will allow supply chain stakeholders to obtain actionable insights to help with planning, scheduling, and improving their systems, helping to increase transparency and predictibility in goods movement, according to the statement. Registered users will access the data for free.
Port and AWS leaders announced the collaborative effort on Tuesday at the AWS Summit in Washington, D.C. The event convenes public sector mission leaders to learn how cloud computing can drive innovation for government, education, space, nonprofit and healthcare organizations. The product itself still in the process of being finalized.
"The Supply Chain Information Highway is transformative, with a goal of enabling users to make scheduling, planning and payment decisions prior to cargo arrival, reducing delays during each handoff on the way to customers," said Port of Long Beach Executive Director Mario Cordero. "We're very excited to collaborate with AWS, one of the most innovative companies in the world, to supercharge this endeavor."
The new cargo project comes as supply chain stakeholders, U.S. regulators and even The White House are looking to data platforms to bring greater visibility to the supply chain, hoping that access to more real-time information can help to speed up delivery times in the supply chain, reduce delays, and lower costs for consumers.
"The difference between our data solution and others that are used to track cargo is that we talked to industry stakeholders before we started to develop it. Our business partners told us they wanted access to a platform that securely collected, curated and published cargo information," said Long Beach Harbor Commission President Steven Neal. "We're pleased now to be working with technology leader AWS to bring us that much closer to making this a reality."
The Port of Long Beach said this sort of flexibility was requested by industry partners during an extensive outreach process, and ensures the data solution can inform stakeholders at every level of the supply chain. The product will also be accessible all, from Fortune 500 beneficial cargo owners to small businesses.
"Global supply chain issues have been exacerbated by the COVID-19 pandemic, even as conditions improve from unprecedented challenges we've faced over the last couple of years," said Kim Majerus, Vice President, U.S. Education, State and Local Government, AWS. "However, the Port of Long Beach has been a leader in listening to its customers, evaluating where investments should be made to improve operations, and leveraging best-in-class technology to develop resources and tools for supply chain leaders to deliver their cargo faster and more efficiently. AWS applauds the Port for developing this Supply Chain Information Highway."
St. Louis-based technology firm UNCOMN is working with the Port of Long Beach to develop the Supply Chain Information Highway software. UNCOMN is partnered with AWS, which will provide the cloud computing infrastructure and services for the platform to function, storing the information in Amazon Simple Storage Service (Amazon S3).
The announcement of the Supply Chain Information Highway comes on the heels of the Biden Administration and Department of Transportation announcing in March the launch of a new data sharing initiative, called Freight Logistics Optimization Works (FLOW), proving a national freight data platform of sorts focussing on enhancing 'ship to shelf' visibility.
Of course, the U.S. Federal Maritime Commission, the independent agency responsbile for ensuring competitive and reliable international ocean shipping, is working on its own maritime data sharing initiative aimed at identifying data constraints that impede the flow of cargo and add to supply chain inefficiencies. The initiative is expected to propose recommendations for common data standards used by international shipping companies, as well as "access policies and protocols that would streamline information sharing across the ocean supply chain." More information on this is expected to be released at the FMC's Maritime Data Summit next month.