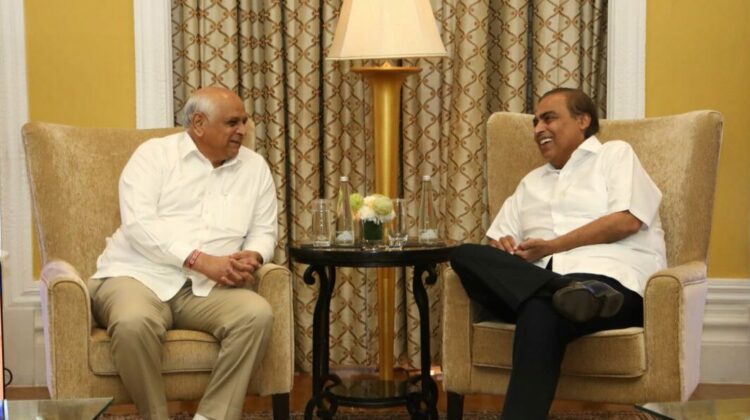 RIL to invest ₹5 lakh crores in Gujarat over the next decade ; Gujarat CM meets Mukesh Ambani
MUMBAI : In run up to the Vibrant Gujarat Global Summit 2024, scheduled for January next year, the Gujarat Government held a roadshow in Mumbai on Wednesday . As part of this event, Gujarat Chief Minister Shri Bhupendra Patel met with the Chairman of Reliance Industries Ltd., Mr. Mukesh Ambani, in the city.
"The productive discussion focused on the upcoming Vibrant Gujarat 2024, industrial investments and upcoming mega projects of Reliance in Gujarat," tweeted Mr. Parimal Nathwani, Director-Corporate Affairs, RIL.
Earlier during the Vibrant Gujarat Summit event on Wednesday morning, Mr. Dhanraj Nathwani, Group President of Reliance (RIL), stated, "Reliance is committed in every way for its investment in Gujarat. We have so far invested Rs. 4 lakh crore in Gujarat, and we have another Rs. 5 lakh crore investment in next decade in pipeline."
"We are coming up with a fully integrated end-to-end solar PV factory in Jamnagar. Battery giga factory is coming up, electrolyzer manufacturing facility is also coming up in Jamnagar. We are committed for 100 GWs of renewable energy which will convert green hydrogen and green ammonia, and we will be one of the largest exporters to the world from Gujarat. Compressed biogas unit we are planning to have somewhere around 25 plants which will be again coming up in Gujarat," Nathwani added.
Gujarat's Chief Minister held one-on-one meetings with top industrialists in Mumbai, including Reliance Industries Chairman Mr. Mukesh Ambani, Chairman of Tata Sons Pvt Ltd Mr. Natarajan Chandrasekaran, Mr. L.V. Vaidyanathan, the Managing Director of P&G, UPL Chairman Mr. Jai Shroff, and Mr. S.N. Subrahmanyan, Chairman of Larsen & Toubro.