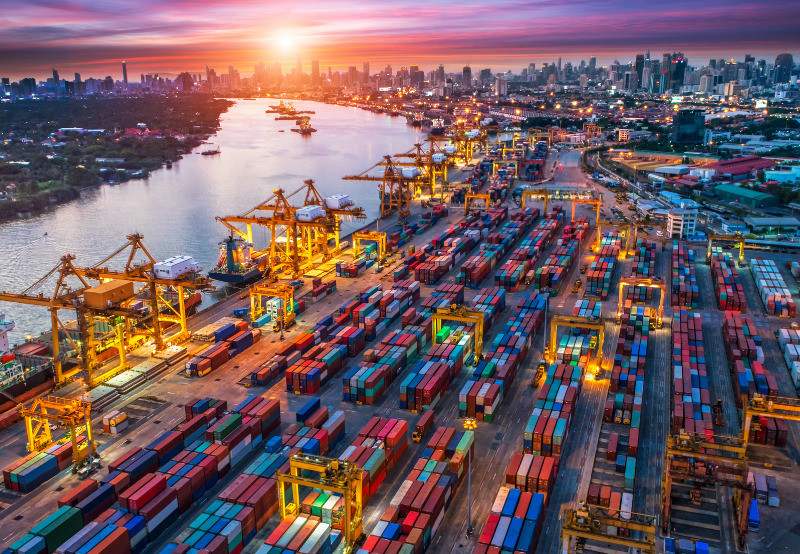 12 major ports of India handled 393.73 million tonnes cargo during the first six months, representing a 2.35 per cent rise
NEW DELHI : The 12 major ports of India handled 393.73 million tonnes cargo during the first six months of this fiscal year, representing a 2.35 per cent rise over the same period of the last fiscal and underscoring a deceleration in the pace of growth.
Cargo traffic during April-September, 2022, in the government-owned major ports had risen 10.8 per cent from the corresponding period of the previous year as the economy rebounded from the aftershock of the Covid pandemic.
The major ports had handled 384.17 MT cargo during April-September of FY23 compared to 346.87 MT during the corresponding period of FY22. The momentum witnessed during H1FY23 was carried throughout the year and the 12 ports handled an all-time high of 795 million tonne cargo.
A granular look into the broader categories of cargo handled revealed that thermal and steam coal, logged a 6.36 per cent decline over the previous year. Thermal / steam coal ranks third by tonnage among all cargoes handled by major ports after petroleum and containers.
Thermal coal had logged a growth of 19.8 per cent in H1FY23 over the corresponding period of the previous fiscal as imports had surged on the back of a central directive to mix imported coal with domestic variants in the wake of an acute power shortage faced by large parts of the country.
Growth in other cargoes, which include all other categories outside petroleum, thermal and steam coal, coking coal, iron ore, fertilisers, containers and edible oils, declined by 11.93 per cent in H1FY24.
On the upside, a 34.12 per cent rise in iron ore and pellet movement (mostly export) was observed to 26.11 MT in H1FY24 compared to 19.47 MT in H1FY23. Volume had suffered during April-September of FY23 due to the export duty on iron ore and pellet which was imposed in late May of 2022. The duty was subsequently withdrawn from November.
While the growth of major ports decelerated, India's largest port operator Adani Ports and Special Economic Zone managed to clock a 14.14 per cent jump in cargo to 202.6 MT in H1FY24, on the back of an 11 per cent rise witnessed in H1FY23.
Incidentally, Kandla Port (renamed as Deendayal), which is 71 kilometre away from Adani's Mundra port, recorded a 8.35 per cent fall in the first half. Paradip, Mumbai, JNPA and New Mangalore reported healthy growth.
SMP, Kolkata
Syama Prasad Mookerjee Port, formerly Calcutta Port Trust, recorded a mere 0.81 per cent rise in H1FY24, underperforming the peers.
The twin-dock system at Haldia and Calcutta handled 31.15 MT cargo, compared to 30.9 MT in H1FY23. Haldia's volume inched up a mere 0.15 per cent to 22.88 MT compared to 22.84 MT. Calcutta reported a 2.67 per cent rise to 8.27 MT in H1FY24 compared to 8.06 MT in H1FY23.
However, port officials held out hope for the second half of the year. "The pace of growth is expected to be higher in the remaining months of the fiscal as we will start transhipment operations of capesize vessels at the anchorage point more often after October 15," Mr. Rathendra Raman, Chairman of SMP, told.
Due to paucity of river draught, large vessels like capesize cannot call at Haldia or Calcutta. To address it, the port carries out transhipment operations — unloading cargo from large ships to smaller ones at high sea by floating cranes mounted on vessels — at Sandheads. While the port is attempting to make it a round-the-year affair, the momentum is usually seen post monsoon when the sea is calmer.
SMP handled 65.66 MT cargo, the highest in its 153-year history in FY23, logging a 12.87 per cent growth over the previous fiscal. During H1FY23, the docks saw a 11.72 per cent rise over H1FY22.