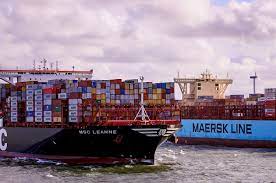 2M Alliance announces Transatlantic network changes

---
COPENHAGEN : 2M Alliance, the largest container alliance of Maersk and MSC, will enhance its TA2/NEUATL2 service, which connects Europe with the United States.
The two container shipping leaders will add a sixth container vessel, the 7,114TEU Santa Rosa, to the service, while they will also revise the port rotation.
"To further improve stability for our customers, we are increasing the size and the number of vessels on this service to allow additional ports to be added to the current rotation and to offer more stability for our customers," noted MSC.
The new rotation will be Felixstowe – Bremerhaven – Antwerp – Le Havre – New York – Norfolk – Baltimore – Charleston – Savannah – New York
"The revised rotation will ensure extensive coverage for shippers moving cargo from Europe and the main United States east coast markets, boosting predictability for effective supply chain planning," commented MSC.
The first vessel on the revised rotation will be Santa Rosa with voyage number NU140W and an estimated time of arrival (ETA) at Bremerhaven on 6 October 2021.
In the meantime, Maersk has also commented that 2M Alliance's TA3/NEUATL3 service will now offer biweekly calls on New Orleans and Mobile, while there will be no alterations on the TA1/NEUATL1 service.
"The ongoing port congestions and operational constraints taking place in North Europe and North America are causing schedule disruptions that compel us to adjust the schedule rotation in order to provide our customers with the most efficient and reliable service possible," explained Maersk and went on to point out that they will continue to monitor the global port congestion situation and make any necessary adjustments.
---