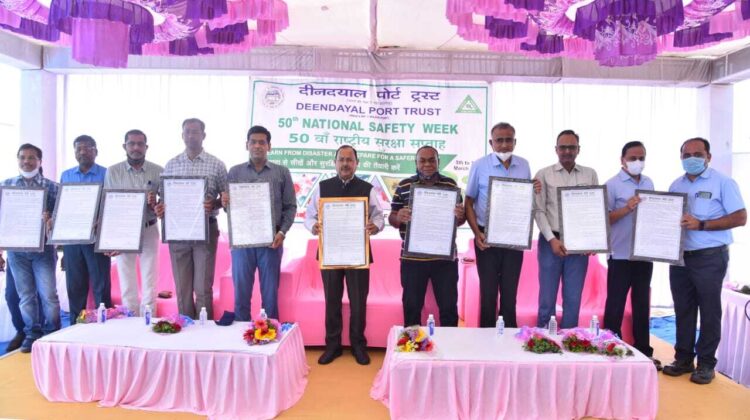 50th National Safety Week 2021 celebration at DPT
11th March 2021 : Valedictory function of 50th National Safety Week 2021 of Deendayal Port Trust was performed with great enthusiasm, amidst the esteemed presence of shri S.K.Mehta-IFS-Chairman,shri Nandeesh Shukla-IRTS-Dy.Chairman, HODs' , Commandant-CISF , Port users and workers.
At the outset, shri Bhavesh Madhvi delineated the various activities undertaken successfully during the Safety week.
Shri Kirupananada Samy-Traffic Manager lauded the measures taken consistently in the port to ensure Safety of working employee in the port.He informed that 'A centre for excellence,productivity and Re-Engineering' in Viewers' gallery at Kandla is in offing, with the financial assistance from DPT as well as from the Port Users.In this centre employees will not only be imparted the Safety matters , but here they will be built -Re engineered in such a manner that they will be able to implement new and advanced technology in a phased manner.
Shri Sameer Pandey-Asstt. Dir.(Dock Safety) expressed his happiness that in DPT, incidents of accidents has been depleted drastically during the last 03 years , which can be vouched with the statistics.
Shri L.Satyanarayan -Labour Trustee stated that he agrees the improvement achieved in the sphere of Safety.
Shri Nandeesh Shukla-IRTS-Dy.Chairman, reminisced that he had visited this port about 04 years back , until now there is a voluminous improvement in illumination in the port. He told that Safety should not be mistaken as an opposite of Productivity.In the real sense with creating the proper atmosphere for Safety measures , Productivity level rises naturally.
Shri S.K.Mehta-IFS-Chairman applauded the measures and activities carried out in the port to raise level of safety.He informed that during 'Matritime India Summit 2021' a Vision 2030 has been submitted , wherein it foreseen that DPT will be the No Hazard /Accident Port . The Ministry also aims at to develop all major ports of India as a 'No Accident Port'. He exhorted the need to inculcate the habit not only to raise voice for their rights , but to discharge their duties in a coherent and consistent manner delivering their 125% of their mite.
At the conclusion of this ceremony , Prizes were given to Best Transporter , Custom House Agent , Stevedores , employees having best performance and winners in Drawing-Poster making , Slogan making , Poem writing etc.
Shri Bhavesh Madhavi-Safety Officer expressed the gratitude to Chairman, Dy.Chairman , all HODs' , present employees and workers to make this event / Safety week successful in a grand manner. This programme was made possible with the help of Shri D D Maheswari, shri Vedruchi Acharya-Asstt.Administrative officer , shri Vinod Dave-Labour Officer and shri Loknath ,Shri. Prasad, Shri Sanjeev, Shri Loknath etc. Smt. Divya Nair anchored the programme with her exceptional qualities in the field of programme anchoring.