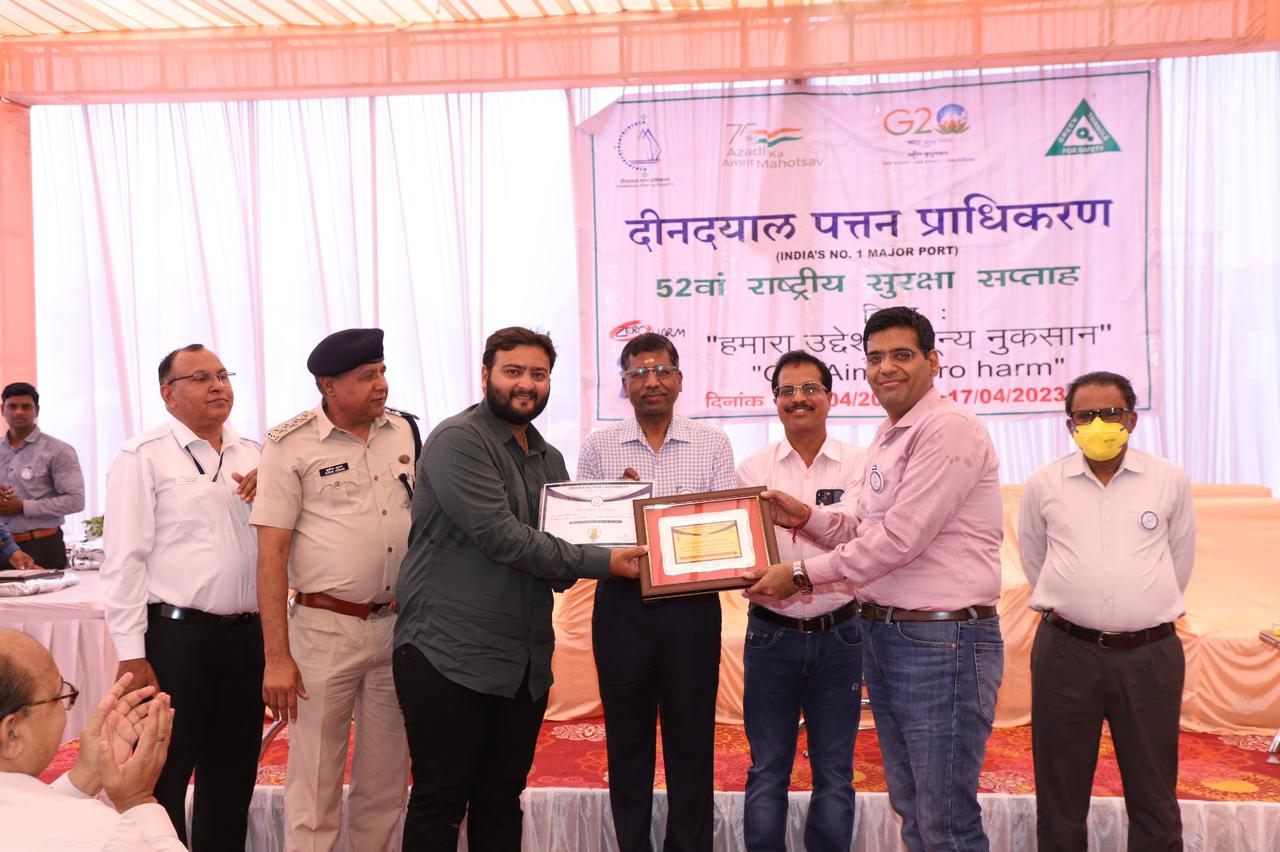 '52nd National Safety Week' concludes at DPA Kandla
GANDHIDHAM : On 17-04-2023 , one week long '52nd National Safety Week' has concluded in the scintillating presence of Shri Nandeesh Shukla-IRTS-Dy.Chairman, Secretary, T.M., CME , H.M. , Dy.Commandant ,Port Officers , P.H.O., Port employees and workers, Port Users and Trade Union leaders.
In his awakening speech , Dy. Chairman emphasised that although the port is contiuously striving for excellence in field of Safety , but the sense of Safety has to be grown up and developed in an individual first. For continuous excellence and perfection , he cited the Japanese concept of 'KAIZEN' , where everyone is continuously sharpening his skills to deliver high higher and highest results.
Several employees who have won in the competition of Safety slogan & poem writing , Model & Poster making , as well as the services rendered by Medical officer, various foremen , crane operators , truck drivers, signalman , loading master, Traffic Insp. , CISF Insp. , Station Officer(Fire brigade) etc. were appreciated by presenting them a certificate and prizes.
In addition to it , 04 best Port Users i.e. (1) M/s Gautam Freight Pvt. Ltd. In field of Stevedoring (2) M/s J.M.Baxi & co. as being a Vessel Agent (iii) M/s Swayam Shipping Services Pvt. Ltd. as being Customs House Agent and (iv) M/s Patel Construction Co. as being a Civil /maintenance contractor were also felicitated , with the kind hands of Dy. Chairman.
shri Bhavesh Madhvi-Safety Officer informed and delighted to everyone that in year 2022 , DPA has achieved a 'Certificate of Appreciation' from the nationwide prestigious institution viz. 'National Safety Council , Navi Mumbai' for lofty contribution towards incessant and upscaling efforts made in the sphere of Safety.