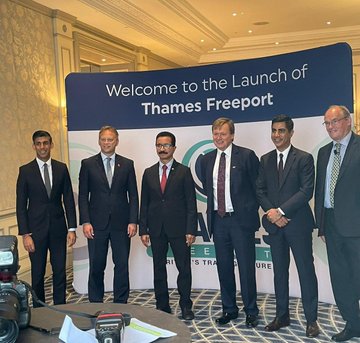 A comprehensive sustainability package is more important than ever

---
At Multimodal, the UK's premier logistics event, we were honoured to speak with Maersk Group about carbon neutral vessels and green methanol, and with Freightliner Group about longer freight trains to see how we can make trade both smarter and greener.
And now with COP26 on the horizon and the UK government having released its long-awaited 'green industrial revolution' climate strategy last week, progressive and innovative sustainability initiatives are at the forefront of the public mind.
As part of the plan, the government has created bold schemes to unlock £90 billion in private investment and facilitate a further 440,000 green industries jobs by 2030. The logistics sector, and DP World in the UK, will need to be part of the movement.
We believe working in a sustainable and responsible way is essential to be a strong business for our customers, our people and our society. I am proud that we are already making significant inroads to a more sustainable future and giving back to the local community.
With the publication of the climate strategy which promises £620 million to go towards electric vehicle infrastructure, we have already begun our journey to ensure that we are replacing onsite vehicles with hybrid and electrified ones.
At London Gateway, as part of our investment of £300 million in our business growth and our greener future, we are constructing a new fourth berth which will be operated by 100 per cent electric vehicles, cranes and lifts. In the logistics park, we have reduced carbon emissions per building by approximately 12,805 tonnes or 16-32 per cent.
And with our partnership in the newly designated Thames Freeport, we are aiming to create a low-carbon highway along the Thames Estuary, reshaping urban logistics and reducing pollution with innovative, net zero technologies.
On top of this, at Southampton, our straddle carrier fleet has now been upgraded and modernised. This means that our machines responsible for picking up and dropping off containers between ships, trucks and rail are all hybrid electric. This has enabled us to reduce our nitrogen oxide emissions by half.
Not only are we making our own operations greener but with our onsite onward rail connections at both London Gateway and Southampton, capable of handling the new 775-metre freight rail trains that carry an additional 12-14 containers than standard trains, we are facilitating lower carbon modes of transport.
According to the Department for Transport, freight rail produces 76 per cent lower carbon output compared to road. Southampton currently moves 30 per cent of its cargo by rail, while London Gateway aims to hit this volume soon. With each standard train taking up to 76 trucks off the road, the carbon savings add up – between both locations we take approximately 300,000 lorries off UK roads each year.
Our onsite multimodal options not only allow for flexibility and resilience in mid-supply chain cargo movement, but the green credentials of our rail connections warranted us to be part of the award shortlisting with Freightliner and Port of Southampton for sustainability company of the year at the Multimodal Awards 2021.
Our efforts are guided by DP World's global 'Our World, Our Future' sustainability strategy to work in a responsible way that prioritises sustainability and the impact on the people, communities, and environment in which we operate. Which is why we're supporting the local communities around London Gateway and Southampton in maintaining and boosting their own green initiatives.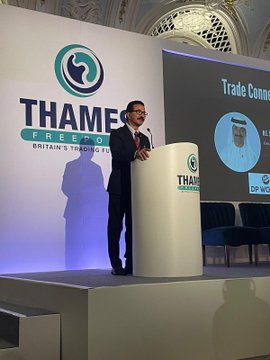 For example, in Southampton, we have pledged our support for the city's vision for a cleaner, healthier, and more sustainable city.
And whilst onsite levelling up are essential for our greener future, we understand that sustainability means more than the environment, community wellbeing is equally fundamental.
As part of our long-term plan, we have established our flagship Global Education Programme, which has built two solid relationships with schools in Southampton, where we work with the staff to not only bring to life the world of mechanics, logistics and ports but simultaneously teach the future generation the best way for sustainable living and working. This work enables future generations to continue the work we are committed to now and further the innovations for our greener future.
Similarly at London Gateway we are working to inspiring students to enter STEM careers through our partnership with Enthuse.
However, this is just the beginning. There are more innovations to be made, new infrastructure to be built and more initiatives to be established. As the world leaders descend on Glasgow next week, we can be proud that DP World in the UK will continue to evolve and grow its own green agenda to work towards Britain's better, healthier, and more sustainable trading future.
Published by

Ernst Schulze ,Chief Executive Officer, UK at DP World