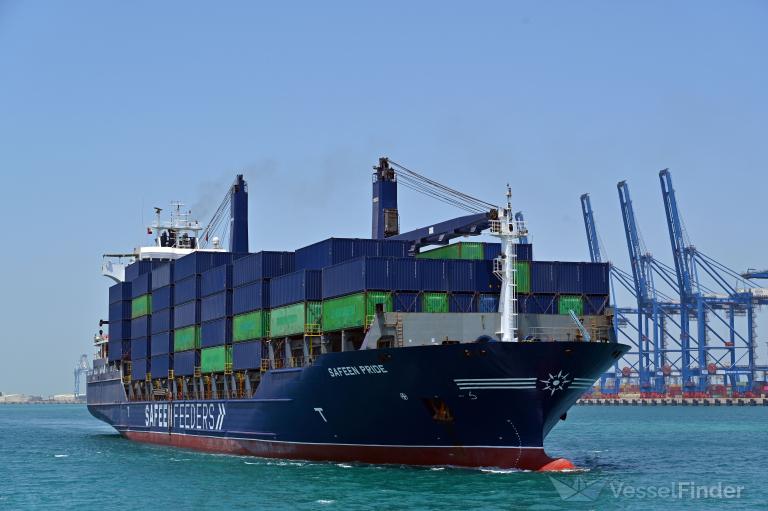 AD Ports celebrates launch of new Khalifa-Kuwait shipping route
ABU DHABI : Container vessel SAFEEN Pride has arrived at Shuwaikh Port in Kuwait, marking the launch of AD Ports Group's new weekly container and Ro-Ro service between Khalifa Port and Kuwait.
The SAFEEN Pride is part of the SAFEEN Feeders fleet and has a total tonnage of 15,636 tonnes, a carrying capacity of 16,855 tonnes of deadweight, and can carry 1,374 TEU.
The new service is intended to improve connectivity and facilitate trade between the UAE and Kuwait, and aims to provide the private sector with more transportation options for goods and merchandise.
"We are proud to see the arrival of SAFEEN Pride in Kuwait, marking the commencement of our recently launched service from Khalifa Port to Shuwaikh Port," said Captain Ammar Mubarak Al Shaiba, Acting CEO Maritime Cluster and SAFEEN Group, AD Ports Group.
"This new route, which includes a Ro-Ro service, highlights our leading role as the region's premier facilitator of logistics, industry and trade. We are committed to establishing robust business ties and developing new forms of cooperation to continually enhance trade connectivity", he added.
AD Ports has launched new container and Ro-Ro services to Kuwait as part of its effort to strengthen its position as a leading player in the maritime trade and logistics industry.
The company's recent acquisitions have made it the third largest independent feeder company in the world by volumes carried, with a total container capacity of 100,000 TEU.
AD Ports Group recently announced the signing of a General Corporate Facility agreement with a syndicate of 13 regional and international banks.
The multi-currency facility, equivalent to around $2 billion, includes three tranches amounting to €600 million ($655.8 million), $620 million, and AED2.8 billion ($762.4 million) with a tenure of up to 2.5 years.