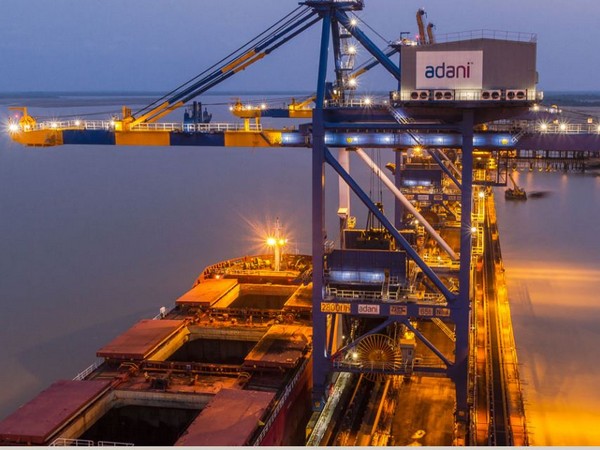 Adani Ports Q3 profit drops 16% to ₹1,316 cr; revenue rises 17.5%
AHMEDABAD : Adani Ports and Special Economic Zone (SEZ), the country's largest integrated ports and logistics company, has reported a 16% year-on-year (YoY) drop in consolidated net profit at ₹1,315.54 crore for the third quarter ended December 31, 2022. The Adani Group company had posted a profit of ₹1,567.01 crore in the same period last year.
The revenue from operations rose to ₹4,786.17 crore, up 17.5% from ₹4,071.98 crore in the corresponding quarter a year ago, the company said in a BSE filing on Tuesday.
On the operational front, EBITDA increased 15% to ₹3,011 crore as compared to ₹2,612 crore in the same period last fiscal.
For the nine-month period of the current fiscal, the country's largest private port posted revenue of ₹15,055 crore versus ₹12,978 crore in the year ago period, registering a growth of 16%. Profit after tax (PAT) stood at ₹4,252 crore, up 11% as compared to ₹3,842 crore in the first nine month of the previous fiscal. EBITDA also climbed to ₹9,562 crore from ₹8,026 crore in the same period last fiscal.
"With the highest ever revenue and EBITDA over a nine-month period, ASPEZ is well placed to achieve the upper end of its full year revenue and EBITDA guidance provided for FY23. The company also concluded the transactions of Haifa Port Company, IOTL, ICD Tumb, Ocean Sparkle, and Gangavaram Port, and is progressing well on transitioning its business model to a transport utility," said Karan Adani, CEO and Whole Time Director of Adani Ports and Special Economic Zone.
Going ahead, the company expects to post revenue of ₹19,200-19,800 crore for financial year 2022-23, while EBIDTA is projected in range of ₹12,200-12,600 crore. For FY24, EBIDTA is expected to be ₹14,500-15,000 crore, while capex during the period to be ₹4,000-4,500 crore. The company also plans loan payments of ₹5,000 crore (including bonds).
Gautam Adani-controlled conglomerate on Monday said that 168.27 million shares of Adani Ports & SEZ, representing 12% of the promoters' holding, will be released under its $1.114 billion loan prepayment plan.
"Continuing with our growth journey, APSEZ is targeting FY24 EBITDA of ₹14,500-15,000 Cr. Besides an estimated capital expenditure of ₹4,000-4,500 Cr, we are considering total loan repayment and prepayment of around ₹5,000 Cr, which will significantly improve our Net Debt to EBITDA ratio and bring it closer to 2.5x by March 24," added Karan Adani.
During 9M FY23, APSEZ handled around 24% of the country's total cargo and retained its position of being India's largest port operator. Port EBITDA grew 20% YoY to ₹9,562 crore, on the back of strong improvement in realisations and cargo volume growth. EBITDA of logistics business segment jumped 66% YoY to ₹354 crore, supported by margin expansion of 400 basis points with improved utilisation of assets and increased share of the GPWIS revenue stream, the company said.
As per the company, its net debt to EBITDA ratio is well within our guided range of 3-3.5x, while its gearing ratio is below one. "The performance across various debt covenants has been better than the desired levels. We have an impeccable track record of fulfilling our debt obligations, and our internal accruals enable us to meet the scheduled debt repayment for any of the financial years without any major challenges," it said.
Post Q3 numbers, Adani Ports shares jumped 9.6% to hit an intraday high of ₹598.70 on the BSE. The stock opened at ₹549.50 against the previous closing price of ₹546.05 on the BSE.