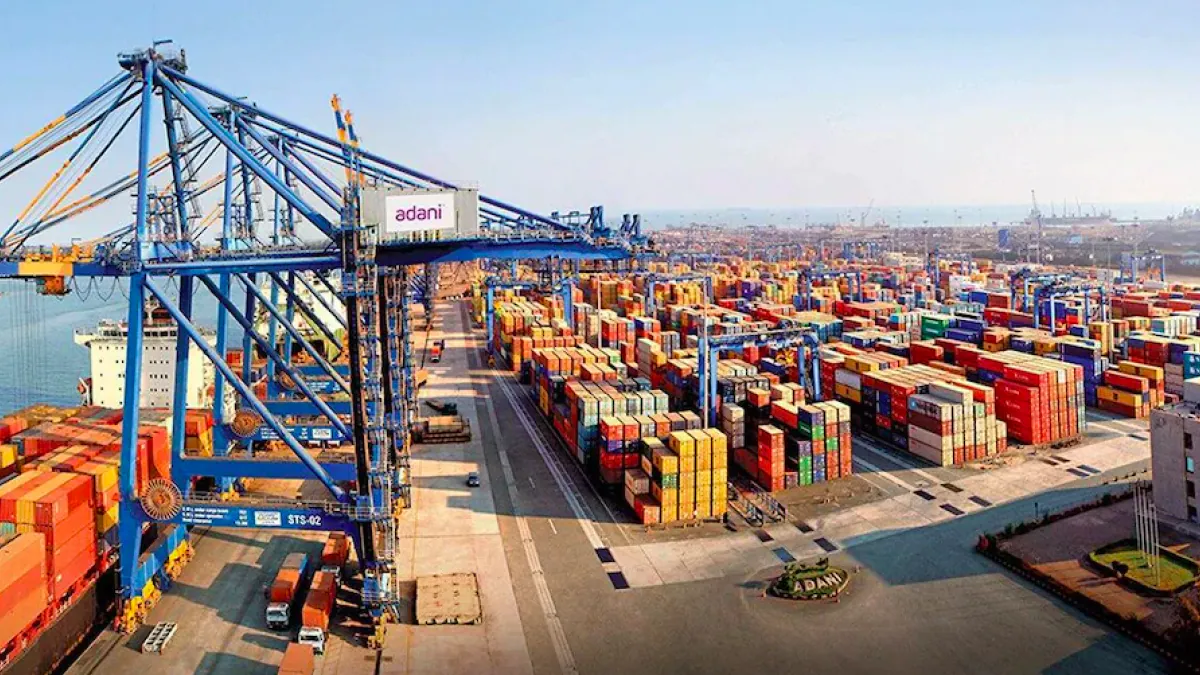 Adani's Mundra Port nearing full capacity in container handling; capacity addition underway
AHMEDABAD : Mundra Port, India's biggest commercial and container port located in Gujarat, handled 6.64 million twentyfoot equivalent units or TEUs in FY23 and is banking on a new under construction facility to meet the demand for shipping cargo in steel containers into and out of India's north-western region.
Mundra, the flagship port of Adani Ports and Special Economic Zone Ltd (APSEZ), India's biggest private port operator, runs four container terminals with a combined capacity of 7.5 million TEUs.
In FY22, Mundra handled 6.52 million TEUs. Globally, a capacity utilisation of 70 percent is considered the ideal level for ports/terminals to operate efficiently without facing congestion and productivity issues. "At 70 percent capacity utilisation, the terminal works at full efficiency. Above that, the efficiency drops, and delays start occurring," said a port industry source.
"Today, Mundra port is already at 90 percent of its capacity in containers," Mr. Atit Mahajan, Managing Director, CMA CGM Agencies (India) Pvt Ltd, said while speaking at the Northern India Steamer Agents Association (NISAA) Business Forum in Delhi on 10 March.
CMA CGM Agencies (India) is the Indian unit of CMA CGM S A, the world's third largest container line. A subsidiary of CMA CGM runs one of the four container terminals at Mundra in partnership with APSEZ.
Ports/terminals on India's western coast have a capacity to handle 17.4 million TEUs to cater to the demand in India's north-western hinterland. Mundra and Jawaharlal Nehru ports account for some 90 percent of that capacity.
Mahajan said that the annual container throughput on the western coast has reached 70 percent of the capacity.
Port/terminal operators are adding 60 percent of the existing container handling capacity on the western coast by 2030. "But, at a realistic growth rate of 7 percent, by 2029, we are going to reach 100 percent capacity of whatever 60 percent is being added," he stated while underscoring the importance of capacity creation to meet demand.
Last year, APSEZ started work on a container terminal which will add as much as 1.2 million TEUs at Mundra port. The firm, though, is yet to disclose a timeline for the new terminal to begin operations.
APSEZ is expected to run the terminal on its own, sources said.
Containers are the fastest growing cargo segment at Mundra port. Of the 155.54 million tonnes (mt) of cargo handled by Mundra port in FY23, containers accounted for 6.64 million TEUs or some 100 mt, while dry cargo and liquid cargo accounted for the rest.
APSEZ is adding capacity at Mundra port when it has some 8 years left of the 30-year concession given by the Gujarat government to develop and run the port. The firm is banking on securing extension of the concession from the State government while investing in a new container terminal at the port.
At Mundra, the container terminal 1 or CT1 having a capacity to handle 1.3 million TEUs is run by Mundra International Container Terminal Pvt Ltd (a unit of Dubai's D P World Ltd).
The container terminal 2 or CT2 – Adani Mundra Container Terminal – with a capacity to handle 1.8 million TEUs is run by APSEZ itself. This terminal was originally designed to handle 1.3 million TEUs, but as demand grew, APSEZ converted an adjacent dry and break-bulk cargo handling terminal into a container handling facility some four years ago, adding 0.5 million TEUs of capacity.
In FY23, this terminal handled 0.45 million TEUs, up from 0.39 million TEUs in FY22.
An equal joint venture between APSEZ and Terminal Investment Ltd, a unit of Mediterranean Shipping Co S A, the world's top container carrier by capacity, runs the container terminal 3 (CT3) – Adani International Container Terminal Pvt Ltd – with a capacity to handle 3.1 million TEUs.
The 1.3 million TEU capacity container terminal 4 (CT4) – Adani CMA Mundra Terminal Pvt Ltd – is operated by an equal joint venture between APSEZ and CMA Terminals Holding, a unit of CMA CGM S A. It handled 1.15 million TEUs in FY23, up from 1.07 million TEUs in FY22.