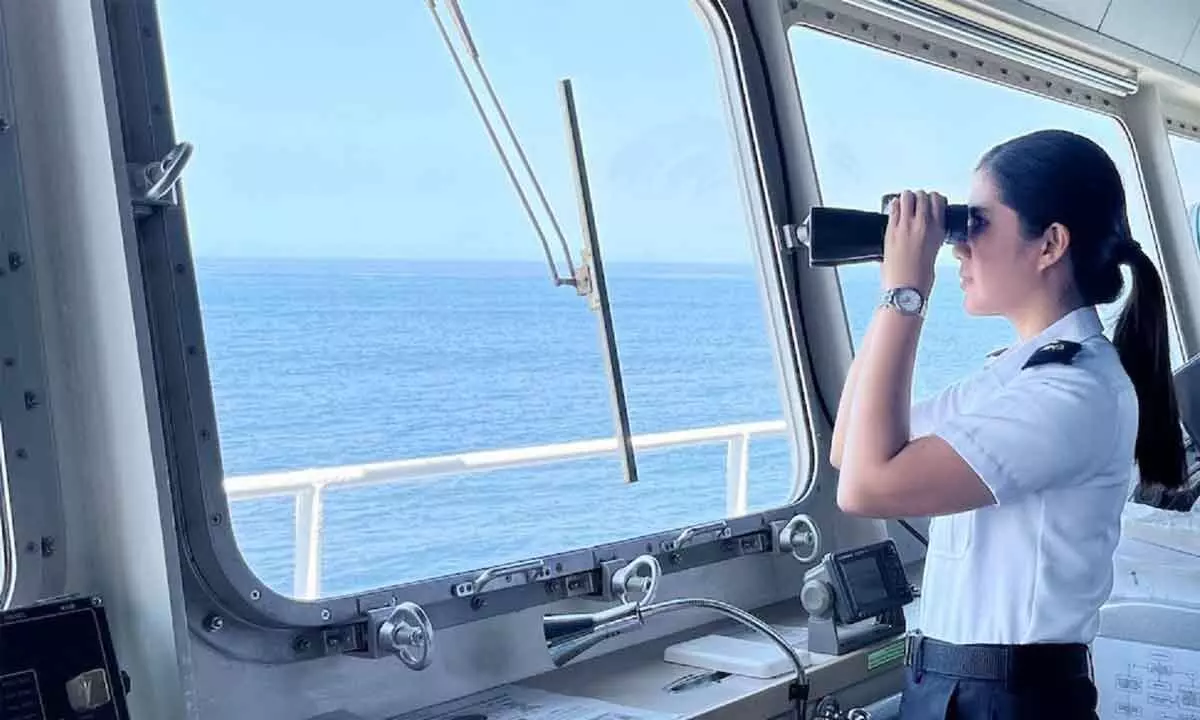 Anglo-Eastern Group launches (AWOS) network for women seafarers
HONG KONG : The Hong Kong headquartered world's leading ship management company, and also a major employer of Indian seafarers, Anglo-Eastern Group recently launched 'Anglo-Eastern Women of Sea' (AWOS) network primarily to provide a global platform for women seafarers to share knowledge and experiences besides providing mentorship and support.
"AWOS will bring a sense of community and empowerment among the women associated with the group. It will also address the gender imbalance that exists within the maritime industry. Women seafarers will be extended support to overcome career challenges," said Maneesh Pradhan, Managing Director of Anglo-Eastern Ship Management India – the Indian subsidiary of AWOS.
As regards India, AWOS will provide mentoring and networking opportunities to women seafarers under seasoned maritime professionals from across the globe, including those from merchant navy. It will draft policies that will advocate rights of women seafarers and strive for gender equality and diversity.
The knowledge exchange initiatives will help them to acquire maritime skills, which will also be bolstered with a sense of community and camaraderie by wives of male seafarers to provide a supportive work environment for women seafarers.
Anglo-Eastern Group currently employs 189 women seafarers out of which 65 are Indians nationals. They work aboard as senior officers in specialized cargo ships worldwide.
India's leading shipping association Maritime Association of Shipowners Shipmanagers and Agents (MASSA) has also pledged to boost Indian women in the seafaring profession.
"We will continue to promote and support entry of women into the profession to bring about more gender diversity and thereby encourage new ideas to make seafaring profession more inclusive," said MASSA CEO Capt. Shiv Halbe.
Based in Mumbai, MASSA is a non-profit body of ship owners, ship managers and agents and is registered as a Section 25 company, under the Companies Act 1956. Members of MASSA include companies which have a long association with the Indian ship management industry. MASSA works closely with the Union Shipping Ministry, the Director General of Shipping of India and Indian ship owners and maritime trade unions.
It formed a Trust in 1994-Maritime Training and Research Foundation (MTRF) that gets donations from employers, which, in turn, are used to build maritime training infrastructure for Indian officers and ratings of the merchant navy.
On its part, MTRF operates MASSA Maritime Academy (Navi Mumbai) and MASSA Maritime Academy (Chennai) and is the Secretariat of the National Maritime Board of India.
Anglo-Eastern Group intends to expand its existing pool of skilled Indian seafarers in the current year since India is regarded as a major supplier of trained maritime manpower for the international shipping industry.
"We are the largest ship manager in the world by number of ships and the second largest in terms of seafarers. Our current pool of Indian seafarers is approximately 21,000. By the end of the current financial year, we intend to add at least another 1000 to the existing pool," said Pradhan. He added that all Indian students who pursue pre-sea maritime training courses at Anglo-Eastern Maritime Academy are assured of placements by Anglo Eastern Ship Management India.
Bjorn Hojgaard, CEO of Anglo-Eastern Group, said, "India is an extremely important country for our growth as Indians are hardworking, intelligent and passionate. Proficiency in English stands as a distinct advantage."
Anglo-Eastern was founded in 1974 and is a leading global provider of ship management services. It is one of the largest employers of Indian seafarers and has over 25 locations in Asia-Pacific, Europe and the Americas. Anglo-Eastern is a ship management company with around 700 ships under third-party management.
Ship management industry is growing at an exponential pace in India as it is one of the largest suppliers of skilled manpower that work aboard specialized cargo ships in various capacities. Adding to the robustness is a coastline of 7,517 km along with 12 major and 205 minor ports. Ship management is the activity of managing marine vessels (cargo and cruise ships) by ship managers. It is an important part of maritime traffic supervision and management, including visa of ships entering and leaving the port, management of foreign vessels, maintenance management and technical management. The services offered by ship managers include technical, commercial and crewing management of marine vessels.