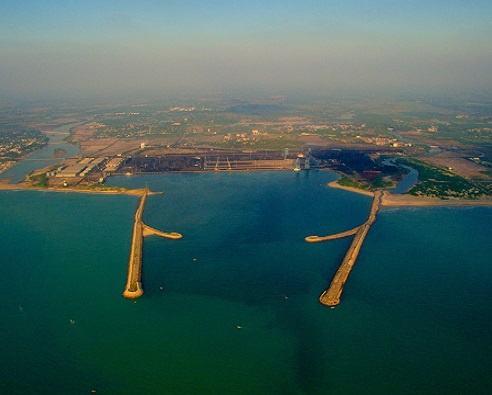 APSEZ acquires Karaikal Port for Rs 1,485 Cr
PUDUCHERRY : Adani Ports and Special Economic Zone Limited (APSEZ) gained a further foothold in the port sector on the eastern coast by acquiring the all-weather deep water Karaikal Port owner Karaikal Port Private Ltd, for Rs1,485 crores under India's bankruptcy law after a court in Chennai cleared its resolution plan for the stressed port based in Puducherry.
The acquisition price implies an enterprise value/ EBITDA multiple of about 8 times the FY23 estimated numbers, APSEZ said in a statement.
APSEZ will spend a further Rs850 crores in upgrading infrastructure to reduce the logistics cost for the customers.
"We are envisaging to double the capacity of the port in the next 5 years and also add a container terminal to make it a multipurpose port," said Karan Adani, CEO and Whole-time Director, APSEZ.
The deal helps APSEZ expand its network of ports and terminals to 14 across the eastern and western seaboards.
By 2026, the port operator aims to handle 500 mt of cargo and seeks to emerge as the world's largest port operator and India's largest transport utility by 2030.
"The acquisition of Karaikal Port is another milestone in consolidating our position as India's largest transport utility," Karan Adani added.
In FY 2023, Karaikal Port handled some 10 million tonnes (mt) of cargo.
Karaikal Port Pvt Ltd runs the all-weather Karaikal port developed on a Build, Operate and Transfer (BOT) format under the Public Private Partnership (PPP) mode on a 30-year concession awarded by the Puducherry government in 2006. The port started operations in June 2009.
Karaikal is located between the major ports of Chennai and Tuticorin and its strategic location allows the port easy access to the industrial-rich hinterland of Central Tamil Nadu.
Karaikal Port is the second port to be acquired by APSEZ under the Insolvency and Bankruptcy Code (IBC) after Dighi port in Maharashtra.
The port has a water depth of 14 meters and a land area of over 600 acres. Its existing infrastructure includes 5 operational berths, 3 railway sidings, mechanized bulk cargo handling system including mechanized wagon-loading and truck-loading systems, 2 mobile harbour cranes and a large cargo storage space that includes open yards, 10 covered warehouses and 4 liquid storage tanks.
With a cargo handling capacity of 21.5 million tonnes (mt), the port primarily handles coal, cement, fertilizer, limestone, steel and liquids.
The upcoming 9 mt oil refinery of Chennai Petroleum Corporation Ltd (CPCL) at Nagapattinam in Tamil Nadu presents an opportunity for Karaikal Port to handle an additional large volume of liquid cargo, APSEZ said.