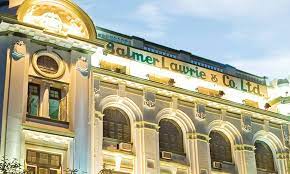 Balmer Lawrie is planning to expand in Bengal

---
KOLKATA : Diversified public sector enterprise Balmer Lawrie plans to expand in Bengal.
The company plans to scale up its warehousing capacity at its existing facility on Hyde Road in Calcutta.
The miniratna PSU owns container freight stations and depots in Calcutta, Chennai and Mumbai covering 175,000 square feet of warehousing capacity and another 181,000 square feet in a multimodal logistics hub in Visakhapatnam. The expansion in Calcutta will add an extra 40,000 square feet of space to its warehousing capacity.
The company expects growing demand for warehousing from its existing customers, including e-commerce players.
"We are investing around Rs 6 crore in our facility in Calcutta. The sales of existing customers are going up and we are scaling up to meet their demand," said Adika Ratna Sekhar, Balmer Lawrie chairman and managing director (additional charge) after the company's annual general meeting on Tuesday.
"Logistics is expected to grow exponentially and we are expecting more private companies to make their base in India," said Sekhar. The company is aiming to become a one stop logistics solution service provider.
Balmer Lawrie also has three cold chain units in Hyderabad, Haryana and Maharashtra and is planning to add one more in Bhubaneswar during 2021-22.
The PSU plans to diversify its chemicals business from leather chemicals to textile and agro chemicals, where it is focusing on emulsifiers in the emulsifier segment.
The customers are mainly tea gardens, and the company has finished the trials there.
"Barring travel and vacation, all other business verticals are expected to do well. We are targeting a turnover of around Rs 1,770 crore approximately in this year from
Rs 1,592 crore. The capital expenditure in FY22 is estimated at around Rs 43 crore," Sekhar said.
---