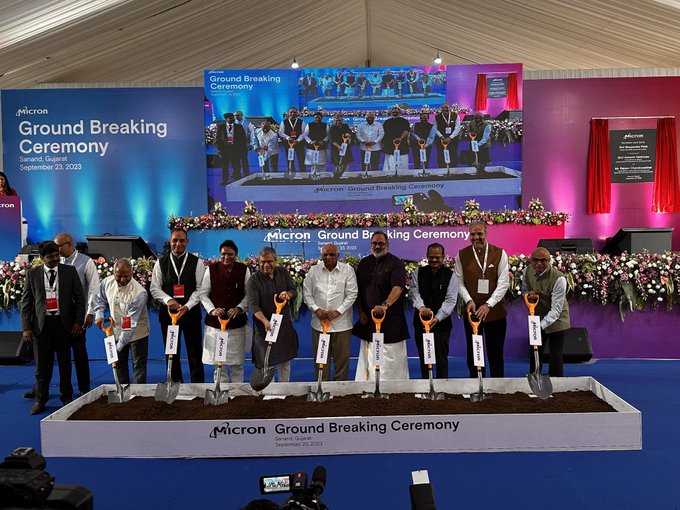 Bhoomi Pujan for India's first semiconductor plant conducted in Gujarat's Sanand, Tata Projects to build the Micron plant, first chip to come out by next year
SANAND : The "Bhoomi Pujan" (groundbreaking ceremony) for the country's first semiconductor plant took place in Gujarat's Sanand on Saturday, 23 September. The plant is being set up by US-based Micron Technology, which is investing ₹22,500 crore in the project. Union ministers Shri Ashwini Vaishnaw and Shri Rajeev Chandrasekhar were present on the occasion.
The Assembly, Test, Marking and Packaging (ATMP) of Micron is being set up on 93 acres in Sanand GIDC-II industrial estate and is expected to be commissioned within 18 months. The groundbreaking ceremony was conducted within just three months of an MoU signed by Micron and Gujarat govt.
The Micron facility will focus on transforming wafers into Ball Grid Array (BGA) – integrated circuit packages, memory modules and solid-state drives. The project encompasses the design and construction of a first-of-its-kind DRAM (dynamic random access memory) and NAND (non-volatile flash memory) assembly and test facility in India.
This semiconductor mission, launched in December 2021, aims to position India as a significant player in semiconductor technology. In line with this vision, on June 22, global semiconductor giant Micron announced plans to invest USD 825 million in building a new assembly and test facility in Gujarat.
The facility, set to meet both domestic and international demand, is strategically located in the Sanand Industrial Park, Gujarat Industrial Development Corporation (GIDC), benefiting from Gujarat's robust manufacturing infrastructure, favourable business environment, and skilled talent pool.
Micron has awarded the contract to build the new semiconductor assembly and test facility at Sanand to Tata Projects, as per reports. A formal agreement was signed between Micron and Tata Projects during the groundbreaking ceremony. Tata Projects said that it aims to use modern construction methods and techniques involving integrated EPC delivery through 4D BIM and hybrid modular accelerated construction for the project.
According to a statement by Tata Projects, the Micron Sanand factory will be designed in accordance with LEED Gold Standards of the Green Building Council and will also integrate advanced water-saving technologies.
"This new manufacturing site will be an invaluable addition to Micron's existing global assembly and test footprint. Micron selected Tata Projects to construct our new facility," said Gursharan Singh, Senior Vice-President, Micron Technology while speaking at the event at Sanand. He said that the site of 1.4 million square feet facility including 500,000 square feet of clean room is expected to be completed by the end of 2024. "We expect to operationalise the facility by then," Singh added.
About 50 per cent of the total cost of setting up the facility will be borne by the central government, while 20 per cent of the cost will be given in the form of various reliefs by the state government. The plant will generate 5,000 direct and 15,000 indirect jobs after phase I and phase II of the project is completed.
The ground-breaking for the country's first semi-conductor plant marks a pivotal moment in carrying forward Prime Minister Shri Narendra Modi's vision for a self-reliant India. It comes after a minor setback faced when Foxconn pulled out of a $19.5 billion semiconductor joint venture with Vedanta. The JV was to set up semiconductor and display production plants in Gujarat. However, Foxconn said that it is committed to India and will pursue its Semiconductor manufacturing plan in the country.
Union Minister for Electronics and Information Technology, Ashwini Vaishnaw, expressed confidence that the construction of the semiconductor plant would be completed soon, adding that the first indigenous microchips are expected to be rolled out by December 2024.
"Today 'Bhoomi Pujan' of the first semiconductor plant was conducted. This is an important step in carrying forward the PM's vision (of Atmanirbhar Bharat). The construction of the plant will be completed soon and the first indigenous microchips will roll out from here by December 2024," Vaishnaw said.
Talking about the importance of semiconductors, he said, "Chips today are an integral part of our lives. The semiconductor manufacturing is also going to help the IT hardware PLI 2.0 in a very big way because this PLI has special incentives for chips which are manufactured in India."
Giving examples of of use of semiconductors, he said that a train can have over 10,000 chips, while an aircraft can have over 25,000 of them.
Underlining the strides marked by the country's electronic industry under the leadership of PM Modi, Vaishnaw said, "In 2014, the manufacturing cost of mobile phones in India was Rs 17,000 crores. This has now soared to Rs 3,65,000 crores. The electronics industry, once valued at Rs 1,90,000 crores, has expanded to be worth Rs 8,30,000 crores."
"Exports have increased fivefold, rising from Rs 40,000 crores to Rs 2,00,000 crores," the Union Minister added. All these advancements are attributed to semiconductor chips, Vaishnaw said, adding that the country was poised to become a major semiconductor hub.
Union Minister of State for Entrepreneurship, Skill Development, Electronics & Technology, Rajeev Chandrasekhar, said, "in just 18 months since PM Narendra Modi set out his India's semiconductor ecosystem vision, here we are today breaking ground for Micron's state-of-the-art modern facility in Sanand, Gujarat along with so much more progress made."
This facility will serve as a beacon for all investors, manufacturers, and participants in the global semiconductor ecosystem, encouraging them to partner with India, he added.