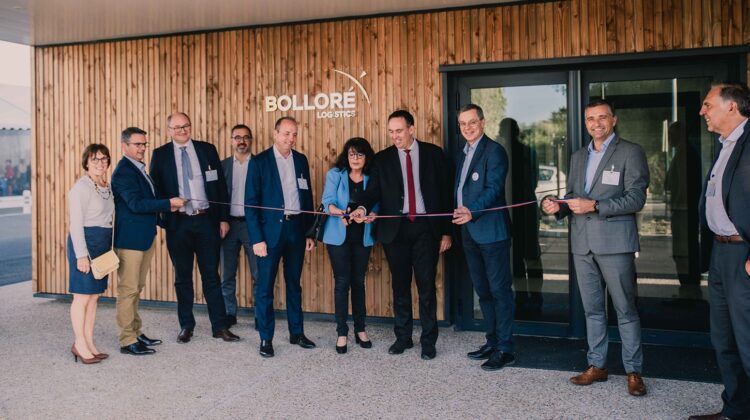 BOLLORÉ Logistics inaugerates its new site in ARNAGE

---
On 30 September 2021, Bolloré Logistics inaugurated its new site in Arnage, a few weeks after 95 Bolloré Logistics employees moved into their new agency. Established in the key industrial zone of the Le Mans metropolitan area, these new offices of more than 1,100 m² have an excellent location and visibility, as well as good road access from the south of Le Mans bypass which directly connects to the A.11 and A.28 highways.
The new building perpetuates Bolloré Logistics' presence in the French department of Sarthe (and surrounding areas) and underscores its determination to support its local customers, including small and mid-sized companies and major groups, in their international expansion.
The new building houses the Centre Regional Division and two operational agencies that deliver comprehensive solutions for managing international flows. The first agency is dedicated to the international transport commission and all its business lines, multimodal transport, logistics and customs, while the second specialises in national and international road transport.
Bolloré Logistics has also chosen to set up its European Automotive Competence Centre in the heart of this regional industry. Coordinated by a team of experts bringing together expertise across the automotive supply chain, the new organisation addresses the company's carmaker and equipment-supplier customers and harnesses the know-how acquired over more than 20 years in intercontinental inbound/outbound and after-sales logistics.
"Our Arnage site has innovative working spaces and creation spaces that invite our customers and partners to collaborate with us on more sustainable and innovative solutions. I am extremely proud to end my career with this new property, whose primary goal is to foster the well-being of our employees. Ludovic Tela, my successor as the Centre Region Director, will undoubtedly be able to capitalize on this tool", explained Bernard Regnier, Regional Director for the French Centre region at Bolloré Logistics.
The new property in Arnage is an integral part of Bolloré Logistics' CSR policy aimed at shrinking the company's carbon footprint while fostering employee well-being. It is fully in line with the corporate identity guidelines and the ambitious policy defined by Bolloré Logistics designed to improve the work environment at its French branches.
---