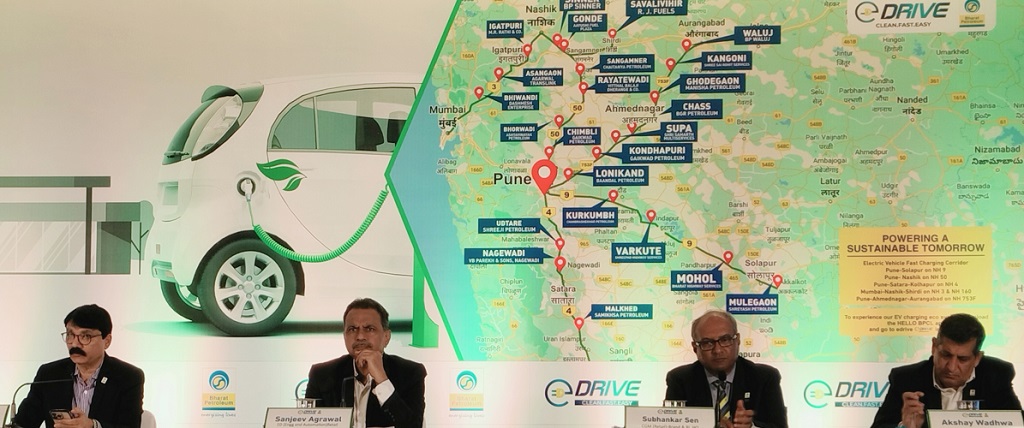 BPCL announces launching of 6 Highway Corridors for fast-charging of EVS
MUMBAI : Bharat Petroleum Corporation (BPCL), the government-owned oil and gas company has announced the launch of EV Fast-Charging stations on six highways in Western India.
These six highways are as follows:
Pune-Ahmednagar-Aurangabad – 240 KMs
Pune-Solapur (4 ROs), 250 KMs
Pune- Nashik (4 ROs), 200 KMs
Pune-Kolhapur (3 RO s), 225 KMs
Mumbai-Nashik (3 RO s) 200KMs and
Nashik-Shirdi (3 RO s), 90 KMs
The EV (electric vehicle) fast chargers at BPCL Fuel Stations recharges EVs in just about 30 minutes giving the driving range of upto 125 kilometers.The distance between the two such facilities at highways has been kept within 100 kilometres.
All EV customers will be able to use the EV fast charging stations via a pay-per-use online service. The fast chargers can be self-operated without any manual assistance though support staff will be at hand when needed.
Akshay Wadhwa, Head (Retail) West, BPCL during the launch, quoted, "Maharashtra is among the top 4 Indian states, with most electric vehicle registrations, therefore setting up the Fast EV charging infrastructure on highway in Maharashtra will support in further growth of EV in the state."
BPCL has digitised the entire EV charger locator, charger operations and transaction process through the HelloBPCL app for an online hassle free and transparent user experience.
Rakesh Kumar Sinha, State Head, (Retail) Maharashtra & Goa, BPCL, concluded with the statement, "We have the highest market share in the petrol & diesel. We are targeting a similar dominance in EV space as well, through rapid proliferation of fast chargers on Highway Corridors and in Urban Markets."