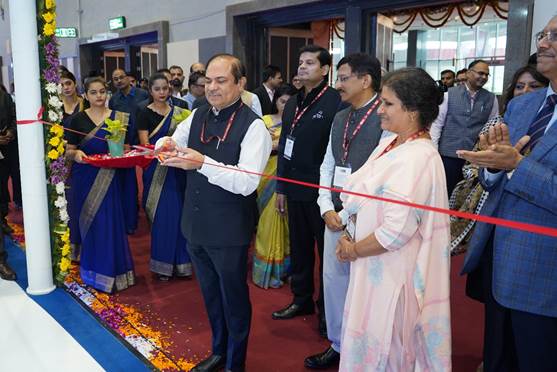 CBIC Chairman inaugurates GST & Customs Pavilion at 42nd India International Trade Fair
NEW DELHI : Shri Sanjay Kumar Agarwal, Chairman, Central Board of Indirect Taxes & Customs (CBIC), inaugurated the "GST & Customs Pavilion" at 42nd India International Trade Fair with the theme of "CBIC–Uniting Markets, Bridging Borders" in the presence of Ms. V. Rama Mathew, Member (IT & Taxpayer Services), CBIC, Ms. Renu K. Jagdev, D.G Taxpayer Services, other senior officers, taxpayers and public in general here. A thematic video of 'CBIC- Uniting Markets, Bridging Borders' set the tone for the Pavilion in line with the ITPO-2023 theme of 'Vasudev Kutumbkam – United by Trade'. Tutorial Videos prepared by DGTS for taxpayer awareness in 10 regional languages on GST Registration & Composition Levy were also released during the event along with a tutorial video on India's AEO Programme.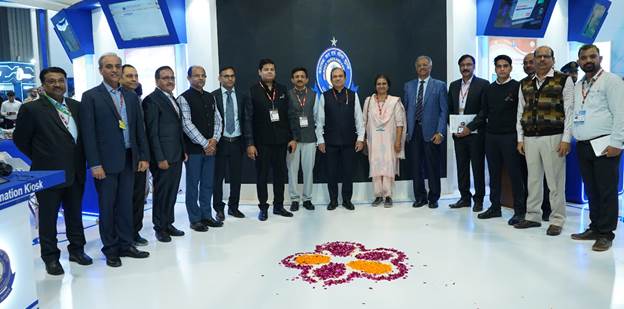 Speaking on the occasion, Shri Sanjay Agarwal, Chairman, CBIC, highlighted various measures taken by the CBIC towards liberalised tax policy and digitisation of GST & Customs processes for taxpayer facilitation and Ease of Doing Business. Shri Agarwal also emphasised that GST has truly unified India as One Nation, One Tax, One Market, while Indian Customs, besides being guardians of economic frontiers, have also contributed in bridging borders, facilitating international trade and working towards Government of India Initiatives such as PM Gati Shakti, Make in India, & Atmanirbhar Bharat.
The pavilion has 6 dedicated helpdesks on GST, Customs, GSTN, ICEGATE and CBIC Mitra to help-guide the taxpayers and public regarding rules/processes and to address their issues on the spot. While interacting with the officers deployed at the helpdesk, Shri Agarwal stressed on resolving taxpayers' issues as the topmost priority and appreciated the efforts made in showcasing successfully the multifaceted role of the CBIC in the GST & Customs Pavilion in helpdesks and informative digital content, including innovative VR Game "Stop the Smuggler." Shri Agarwal congratulated the team of taxpayer services for organising an informative and engaging 'GST & Customs Pavilion' and hoped that the contents on display and other activities will help in creating taxpayer awareness about the GST & Customs processes.
There are several theme-based expert talk sessions on various important topics of GST & Customs. To engage and entertain the visitors, the GST & Customs Pavilion will also be conducting several interesting events such as Nukkad Natak, Ventriloquist Shows, QUIZ Shows on GST and Customs, Children Activities among others. A special counter has been set up for guiding the youth about the career opportunities in Customs & GST Department. CBIC publications and brochures on various topics are also available for free circulation and download. In addition, a special counter for display of souvenirs of Dharohar (National Museum of Customs & GST, Goa) is also available in the CBIC pavilion. With the commitment of 'Uniting Markets, Bridging Borders', the CBIC pavilion is open to visitors from November 14-27, at India International Trade Fair, 2023, at Hall No. 5, Pragati Maidan, New Delhi.