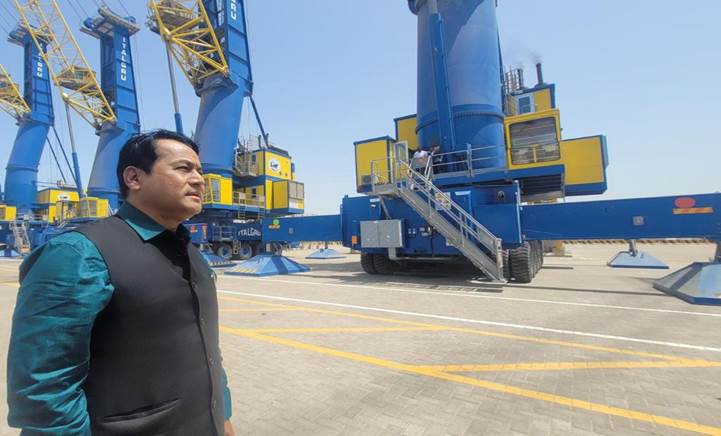 Chabahar Port may turn profitable by fiscal year end, Phase-II of investments being mulled : Sonowal
OMAN : India is exploring further investments into the Shahid Behesti Terminal at the Chabahar Port in Iran, as part of the Phase 2 of the expansion plans there. Investments are to be explored through the PPP – route and existing operations at the port is "most likely to turn profitable by the end of this fiscal," Union Minister of Ports, Shipping and Waterways, Shri Sarbananda Sonowal, said.
According to the Minister, cargo handling at the port is "increasingly significant" which has led to its "commercial viability". "Numbers are significantly up over comparative period last year. Operations are commercial viable and if there is no black swan event, operations there should be profitable by the end of this year," Sonowal said.
In fact, operations there, have exceeded target set for 2023.
For the current fiscal ( April-September 2023) container cargo handling at the Shahid Beheshti Terminal was to the tune of 25,788 TEUs (twenty equivalent units); and 1.5 million tonne (mt) of bulk cargo has been handled. The target for 2023 was 13,282 TEUs at the Shahid Beheshti terminal. The cargo handling in 2022 was 3,096 TEUs.
Between 2018 and May 2023, bulk and general cargo traffic at Chabahar was 6.56 mt.
"Taking into view the commercial aspect of the port, as part of Phase 2, Public Private Partnerships are being explored," the Minister said.
Chabahar's Shahid Beheshti terminal is India's first overseas port investment and has a present capacity of handling 8 mt of cargo vessels. Post expansion, the final plan is to take capacity handling to around 18 mt.
The port is expected to act as a strategic gateway connecting India to the Caspian Sea, Russia and Northern Europe.
Long term contract
Asked about the progress of the long term contract between India and Iran over operations at the terminal, Sonowal said: "Talks are progressing well; and are on track."
Incidentally, the two countries are yet to sign a 10 year-long term contract. Current contracts are renewed every year.
India has reportedly dropped a clause related to international arbitration, but there are some concerns on Iran which continues to be under US sanctions. The sanctions supposedly has impacted procurement of cranes and other equipment by India Ports Global Ltd (IPGL) – the state run entity in-charge of operations there. Revenue from cargo handling would be shared by India and Iran per an agreed formula.