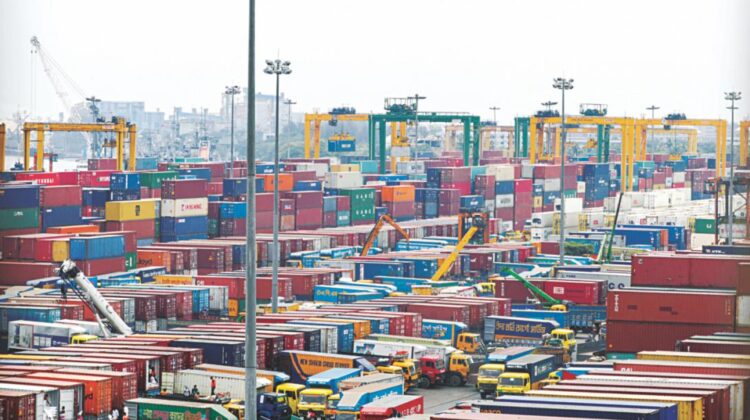 Chittagong ICDs chocked up with export laden boxes
CHITTAGONG : The privately-owned Inland Containers Depots (ICDs) in Bangladesh are choked up with export laden containers amid congestions at transhipment ports and berthing delay at Chittagong port, which is hampering operations at their yards.
The 19 ICDs or off-docks have a total capacity to store 77,700 TEU but the operation is hampered when the number of stored containers hit 85% of the capacity.
Currently, there are 14,100TEU of export-laden boxes, 8,500TEU of import laden containers and 38,500TEU of empties at the ICD yards.
The ICDs handle almost 100% of the export goods of the country and 25% of import goods, while they collectively store a stock of empty containers, almost ten times the empty container stock of Chittagong port.
The Bangladesh Inland Container Depot Association (BICDA) on 1 July in a letter to all concerned requested not to keep boxes more than three days in the container freight stations for the smooth operation of the facilities.
Export cargoes reach the ICDs from factories by trucks and covered vans and stuffed into the containers and stay in their yards before being sent to the port for loading to the vessels. Besides these ICDs handle import containers which carry 37 types of goods.
BICDA president, Mr. Nurul Qayyum Khan in the letter to Bangladesh Freight Forwarders Association (BAFFA) said the prolonged stay of export cargoes and export loaded containers in the ICDs is causing operational hindrances.
"For the sake of the smooth operational flow the export cargoes should not stay in the CFS of the ICDs for more than 2/3 days," he noted and went on to add that "for any reason if any export cargoes stay longer, it very negatively impacts not only on operational dynamics but also the productivity of the ICDs."
Mr. Khan also pointed out that the shortage of designated containers for stuffing of export goods is also exacerbating the problems faced by the ICDS. From Bangladesh, 40-foot standard and 40-foot high cube containers mainly carry outbound cargoes.
The longer stay of export boxes occupying places results in "trucks with new export cargoes coming to the off-docks get delayed in getting unloaded," mentioned Mr.Khan.
Muntasir Rubayat, head of operations at GBX Logistics, said there is a huge berthing delay at transhipment ports which mismatches the plan with mother vessels resulting in container rollover.
Many vessels are also skipping various ports leading to a severe hike in their freight rate, according to Rubayat, who said, "As a result, the mainliners prefer high freight cargos causing stockpile of containers in both domestic and transhipment ports."
Source : CONTAINER NEWS