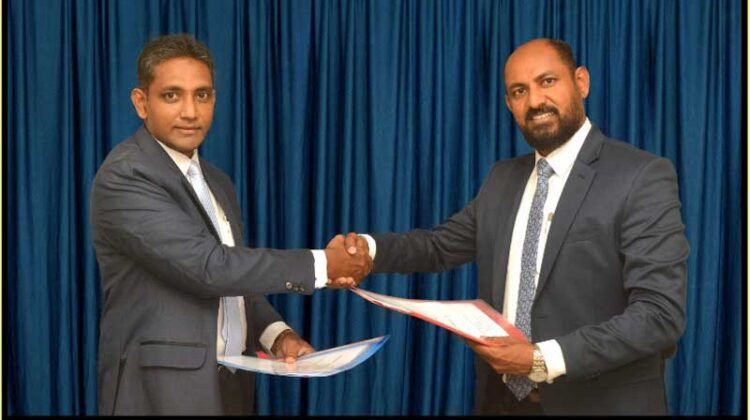 CK Express Shipping Line launches operations in Sri Lanka
COLOMBO : CK Express Shipping Line launched NVOCC Operations focusing starts in Sri Lanka from early July 2021 onwards. M.P. Alaagu Kumar, Chairman of CK Express Shipping Line India, together with the Freight Movers Logistics Pvt Ltd, Chairman, Eshantha Fernando, announced the launch of a new Joint Venture Agency within Sri Lanka starting the container movements .
Chairman Eshantha Fernando, a pioneer in the shipping and logistics industry being engaged in the logistics field for more than two decades and a remarkable personality with substantial experience in the relevant market stated, "Although this is an idea that has been around for a long time being much hampered and delayed and despite the challenges due to the global pandemic situation, CK express Shipping Line took a brave step to enter Sri Lankan market proved a big boost to the developing the economy in the country from the private sector as well."
CK Express Shipping Line, Managing Director and Owners' Representative in Sri Lanka, Channa Karunanayake stated, "CK Express Shipping Line has grown to be one of the most reliable shipping companies in India operating approximately more than 3000 TEUs (Container Fleets of GP / HC / Open Top / Flat Track / Tanker / Reefer) in the way of General Units and Special Equipment Units."
"We are very grateful and take pleasure in joining hands with our distinguished and generous clients – CK Express Shipping Line, for the confidence they have placed in us during last 20 years and joining us in Sri Lanka as a reliable shipping company. We would like to mark this initiative as the first step towards many successful ventures in the logistics field." "Based on an agreement, the CK Express Shipping Line will regularly transport shipments from ISC / Gulf / Upper Gulf / Middle East and Red Sea Ports / China / South East Asia / Far East – Zonal Sectors to Sri Lanka regularly as NVOCC operation.
Source : Daily News