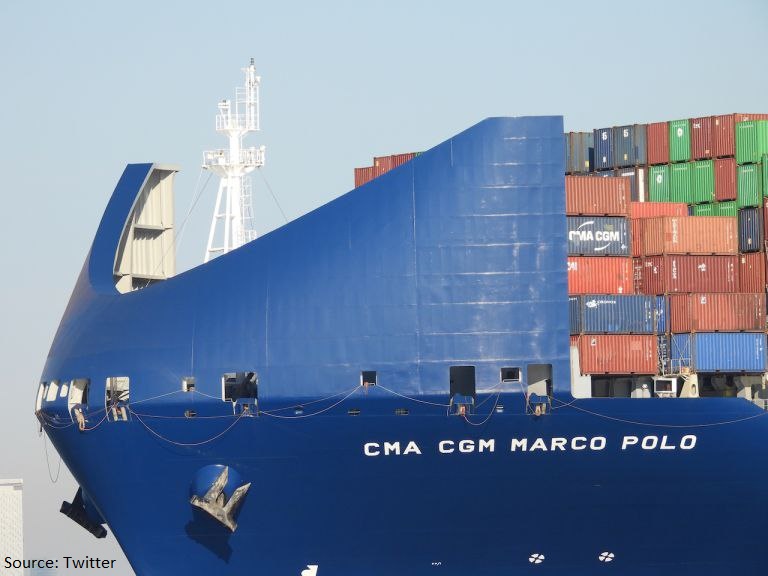 CMA CGM Boxship receives "Windshield" for improved Aerodynamics
MARSEILLE : CMA CGM confirmed, that one of its ships, the "CMA CGM MARCO POLO," has been fitted with a "windshield". The change is expected to improve the ship's aerodynamics and fuel efficiency.
The newly added "windshield" is a curved metal surface attached to the ship's bow. CMA CGM stated that it took approximately six months to develop and install the new "windshield" on the "CMA CGM MARCO POLO." The company also stated that if the test results are positive, the same feature will be applied to all other CMA CGM vessels.
More and more carriers are testing out large windshields placed at the bow of their ships in hopes of improving their carbon footprint, such as Ocean Network Express (ONE), which added them to their ships, the "ONE Trust" and the "ONE Tradition."
The Japanese liner, Mitsui OSK Lines (MOL), was the first to develop these windshields for use on ships. MOL installed its first windshield on the MOL MARVEL in 2015 and reported a 2% reduction in fuel expenditure. MOL reported in 2017 that it had completed a two-year test of an improved version of this windshield and expected to save as much as 4% on fuel expenditure.