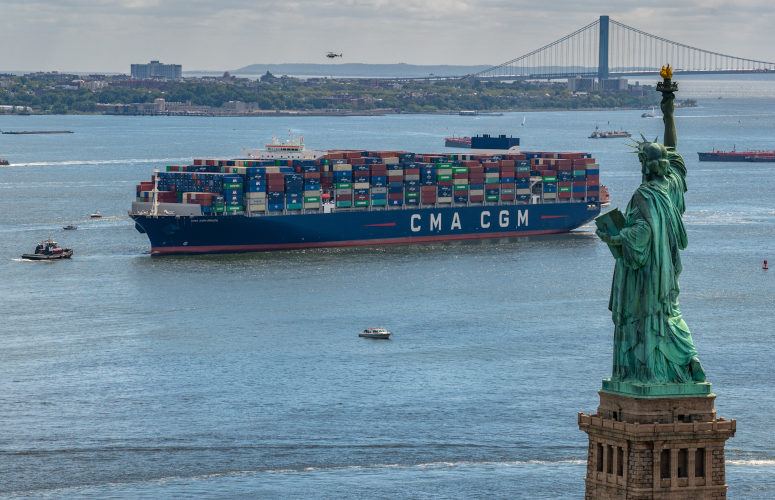 CMA CGM unveils "Port Liberty"
MARSEILLE : The CMA CGM Group has unveiled the investment and business strategy for its recently acquired Global Container Terminals (GCT) in Bayonne and New York Ports as part of the Group's U.S. expansion plan.
Effective immediately, the terminals will be named "Port Liberty New York" and "Port Liberty Bayonne", and CMA CGM will embark on an ambitious $600 million upgrade of the two facilities incorporating the latest technology, creating approximately 1,000 union jobs and resulting in environmental improvements. Post-investment, Port Liberty's combined capacity will increase by up to 80%, allowing larger, more energy-efficient ships to dock.
In partnership with the State of New York and the State of New Jersey, the investment will also be used to enhance rail and road infrastructure surrounding the multi-user terminals to create more direct access to freight rail lines and major highways, thereby aiding in Port Liberty's decarbonization efforts by limiting the number of trucks needed for shipping and transportation. Together, these efforts also support CMA CGM's goal of reducing emissions and greenhouse gases and becoming Net Zero by 2050.
Port Liberty New York and Port Liberty Bayonne provide flagship terminal operations at a critical entry point on the U.S. East Coast, enabling the shipping lines to capitalize on global sourcing trends and advance the East Coast and Midwest's role in the U.S. supply chain. With an expanded Northeast footprint, these terminals will provide customers with heightened access to one of the world's largest economic regions, improving its global network resiliency and enhancing its service.
Rodolphe Saadé, Chairman and CEO of the CMA CGM Group, said: "The acquisition of these two terminals is a reflection of our ongoing commitment to the U.S. market in building more resilient and more sustainable supply chains. It is a major step forward in our strategy of developing and modernizing infrastructures here and around the world.
"Port Liberty New York and Port Liberty Bayonne on the East Coast, together with FMS on the West Coast now rank as CMA CGM's flagship terminals in North America. They will enable us to provide a better service offering to our customers."
For nearly 40 years, the Group has enjoyed a long commitment to the U.S. economy and strong presence through its port terminal portfolio and operational relationships with U.S. customers. CMA CGM's U.S. portfolio now includes seven terminals, strengthening its domestic production capabilities and further diversifying its gateway ports.