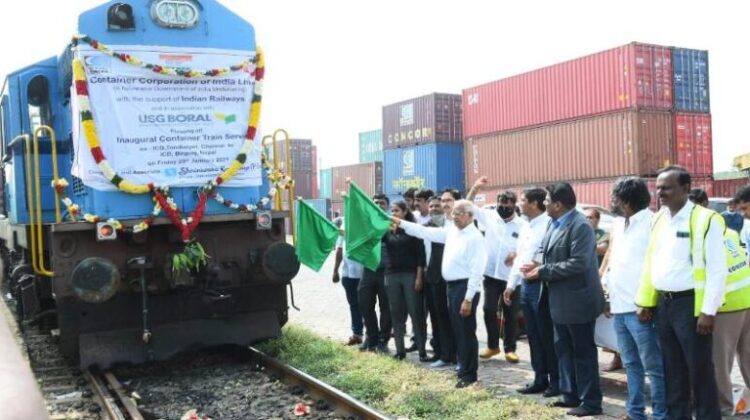 CONCOR flags off train service from Chennai to Nepal
Containerized rail transport giant, Container Corporation of India (CONCOR), has flagged off a new train service from Chennai to ICD Birgunj in Nepal on 29th January 2021. This has been a long-standing demand of the trade and has been fulfilled in association with the Indian Railways.
Ms. Mohanapriya, IRTS, Area Operations Manager, MAS; Shri Sunil Shekhawat, Director, M/s USB Boral, Chennai – Shipper; Shri P.C Jain, Shriniwasa Roadways P Ltd; and Officers from CONCOR, Indian Railways, business associates, trade and clearing agents were present on the occasion.
Speaking on the occassion, Shri G.R. Seshagiri Rao, Chief General Manager, CONCOR, Chennai, stated that there is a good demand for movement of goods from southern states to Nepal and CONCOR had come forward to provide cost effective logistics support which would also minimise the transit time. Shippers have shown interest in this service to transport various goods such as automobile batteries, auto parts, tyres, gypsum products, rubber, turmeric, HDPE granules, chemicals, steel coils and project cargo.
"This would be a regular service ex Chennai to Birgunj involving a distance of more than 2250 kms for which CONCOR and Indian Railways had drawn up plans to link Chennai with Birgunj by deploying high-speed rakes on the circuit. The discussions with major shippers, chambers of commerce and trade associations are going on to provide unhindered train linkage to ICD, Birgunj, Nepal," said Rao.