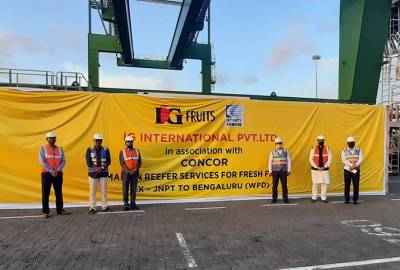 CONCOR launches intermodal reefer service from JNPT
MUMBAI : Demand for containerized rail service at Jawaharlal Nehru Port Trust (JNPT) is growing, evidenced by Container Corporation of India Ltd. (Concor) launching a new intermodal link from India's busiest public container complex to Concor's ICD Whitefield Terminal.
Aimed specifically at refrigerated (reefer) cargo, the new service will give shippers an alternative to trucking that will save them approximately 30,000 Indian rupees ($410) per container on the approximately 1,000-kilometer (621 miles) move from JNPT to ICD Whitefield in Bengaluru, southern India, according to a Concor spokesperson.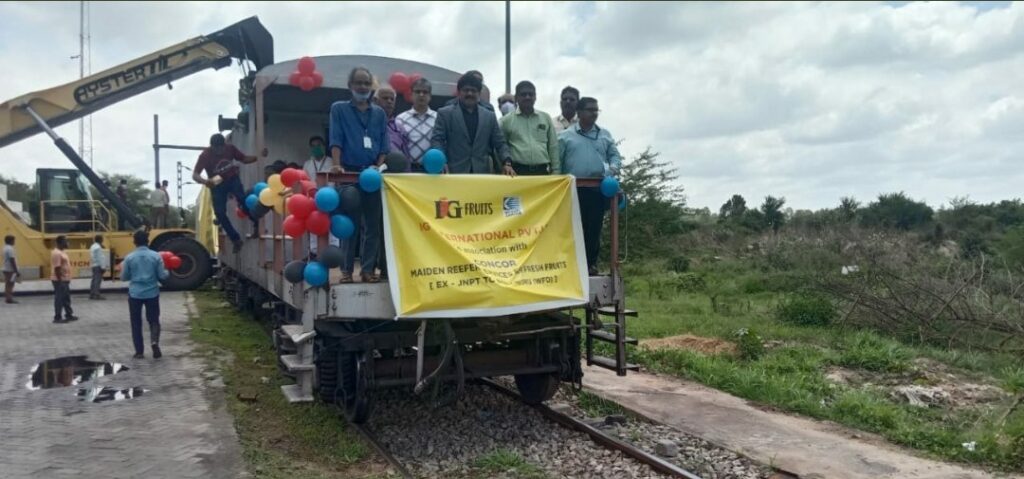 The first train, loaded with 44 FEU of fresh fruit imports for Mumbai-based trader IG International, left PSA's Bharat Mumbai Container Terminal on June 6 and was expected to arrive in Bengaluru around 35 hours later, much quicker than the typical truck journey of three to four days.
"These services involve integrated logistics covering first-mile-last-mile support for perishable cargo through reefer containers," Concor said in a statement. "These train services are not only cost effective but also safe and eco-friendly by protecting the environment, minimizing [carbon dioxide] levels, and reducing high dependency on the lone/traditional transport mode."
The intermodal service provider and terminal operator said it is also considering increasing the number or frequency of trains headed to and from Bengaluru, as well as similar offerings into the country's northeast interior.
"With the support of customs and the port authority, terminals, and shipping lines, Concor is ready to extend all-out support to shippers/importers for reducing their logistics costs under single-window and integrated logistics support for perishable and general cargo to nearly 30 destinations from JNPT terminals," the company said.
Transshipment workaround
From a broader industry perspective, the rail connection could offer cargo owners in South India — traditionally dependent on foreign transshipment — an option to work around lingering COVID-19 and weather-related congestion issues at Sri Lanka's Colombo port.
A JNPT official who asked not to be identified told that, carriers have been urging shippers to make use of regular long-haul services calling at the port as potential alternatives to divert cargo, rather than risk transshipping through Colombo.
Sunil Vaswani, executive director of the Container Shipping Lines Association, which represents foreign carriers in India, told, foreign transshipment, which typically involve extra costs and longer transits, has been plagued by congestion at international hub ports. He also noted that liners are actively working to accelerate direct shipping trends out of Indian ports via cargo aggregation.
A recent Maersk-led block train from Kolkata to JNPT also reflected the growing need for containerized intermodal rail service to and from India's major ports.
Source : JOC.com