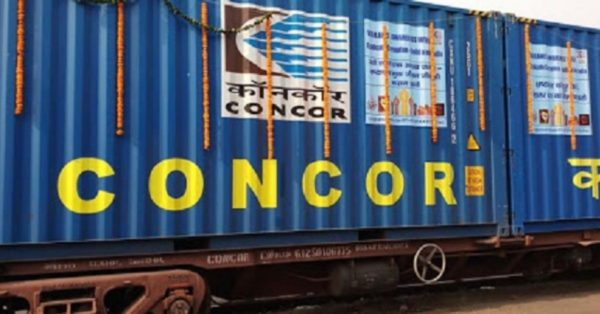 CONCOR plans to surrender land portion at Tughlakabad ICD in a bid to reduce land license fee payout to Indian Railways
NEW DELHI : Container Corporation of India (CONCOR) on November 3 said that it plans to surrender a portion of land at its inland container depot (ICD) in Tughlakabad (Delhi) in a bid to reduce its land licensing fee (LLF) payout to the Indian Railways.
"We are planning to surrender a portion of our land at TKD (Tughlakabad) ICD in the current quarter and we have already surrendered one terminal at Baroda (in Q2FY24)," the company's management said in a post-earnings conference call.
CONCOR has paid Rs 215.57 crore as LLF in the first half of 2023-24 when compared to Rs 191.49 crore that was paid in the same period a year ago.
The company's total land lease charge for 2023-24 is expected to fall to Rs 450-470 crore once it surrenders land back to the Indian Railways from the earlier expected Rs 500 crore at the start of FY24.
"LLF at TKD is the highest CONCOR is paying when compared to other ICDs, by surrendering land at TKD and Baroda we intend to reduce our LLF for FY24," the company's management said.
CONCOR's management added that they will continue to explore ways to return land parcels to the Indian Railways in order to keeps its LLF payouts in check.
Despite surrendering back land to the Indian Railways, CONCOR does not expect any fall in volumes.
"CONCOR had made alternate provisions to make up for the land being returned to the Indian Railways, as can be seen by our new facility in Baroda," the company's management said.
The Delhi government had earlier this year increased the land leasing charge for Tughlakabad ICD by Rs 100 crore annually, which would reflect as a Rs 22-23 crore payout as part of CONCOR's expenses every quarter.
Concor pays land lease charges at the rate of 6 percent per annum on the market value of industrial land with an annual escalation of 7 percent, for terminals run on railway land.
The move to return land at Tughlakabad ICD also comes at a time when CONCOR is facing intense competition for volumes from the likes of Gateway Distriparks and other container train operators.
According to a recent report by brokerage firm ICICI Securities, CONCOR is losing its market share mainly in the western market (Mundra) and the Delhi-NCR market.
"It (CONCOR) is losing its market share due to the competition's pricing strategy as well as competition from the road transport segment," the report stated.
CONCOR's Tughlakabad ICD is India's biggest dry port and the company handles 3 lakh TEUs (twenty-foot equivalent unit) of cargo annually from the ICD.
The twenty-foot equivalent unit is an inexact unit of cargo capacity, often used for container ships and container ports.
Shri Sanjay Swarup the new Chairman and Managing Director of the company said that CONCOR had reported its highest-ever results in the company's history in Q2FY24.
The company's consolidated net profit jumped 21.8 percent on-year to Rs 481.76 crore in Q2 FY24, while revenues rose 10.5 percent year-on-year (YoY) to Rs 2,194.87 crore, due to a 26.13 percent YoY growth in domestic volumes in the September quarter.
CONCOR's earnings before interest, taxes, depreciation and amortization (EBIDTA) also rose to Rs 536.93 crore in Q2 FY24, which was 17.16 percent higher than Rs 410.56 crore clocked in the corresponding period of the previous year. The company's EBITDA margin was up to 24.46 percent in the September 2023 quarter as against 23.07 percent in Q2 FY23.
The rise in EBITDA margin was largely due to better price realisation seen during the quarter and an increase in double stacking done by the company.
CONCOR operated 2766 double-stacked trains in Q2FY24, when compared to operating 2,100 trains in the same period a year ago.
The company has spent Rs 284 crore as capital expenditure in the first half of 2023-24 to procure rolling stock, containers, and rakes.
CONCOR expects to surpass its guidance of Rs 600 crore of capital expenditure in 2023-24.
The logistics giant expects its import volumes and domestic volumes to remain strong in the remainder of 2023-24.
CONCOR expects its domestic volumes to grow 25 percent in 2023-24 when compared to a year ago. In order to boost its domestic volumes CONCOR is also exploring ways to transport bulk cement and is also looking to enter into transporting fast-moving consumer goods and white goods.
The company has started trials of new 12 feet heigh containers to transport FMCG and white goods and is awaiting the Indian Railways' approval to start transporting bulk cement as well.
CONCOR is also increasing its last-mile connectivity offering to boost domestic demand. At the moment around 30 percent of the company's volumes are handled through last mile connectivity which it hopes to increase to 40 percent in the next few years.
In 2020, CONCOR had surrendered 16 terminals with a turnover of Rs 277.50 crore to the Indian Railways due to commercial and business viability considerations.
Concor had built these terminals on land leased from the Indian Railways.
"In view of less business as well as a sudden abnormal increase in land license fee by Railways, these terminals have become unviable to run from a business point of view," Concor had said while handing over these facilities to Indian Railways.
The terminals that were returned to the Indian Railways include four from the Western region (Chinchwad in Pune, Miraj, Ratlam and Nagpur), four from the Northern region (DCT Okhla, Babarpur in Panipat, Rewari and Ballabhgarh), three from the South Central region (Desur in Belgaum, Raipur and Visakhapatnam CFCV), two from Eastern region (Tata Nagar in Jamshedpur and Rourkela) and one each from North Central region (Madhosingh in Mirzapur) and North Western region (Sabarmati), according to the official.
CONCOR has also handed over the empty container parks at its Tughlakabad terminal – New Mineral Siding Okhla, Power Cabin and the New Power Cabin near Tughlakabad Railway Station – to the Indian Railways.
It has also surrendered 26.58 acres of land at its Tondiarpet facility in Chennai, 4.15 acres at Milavittan in Thoothukudi and plans to return Railway land at Fatuha near Patna.