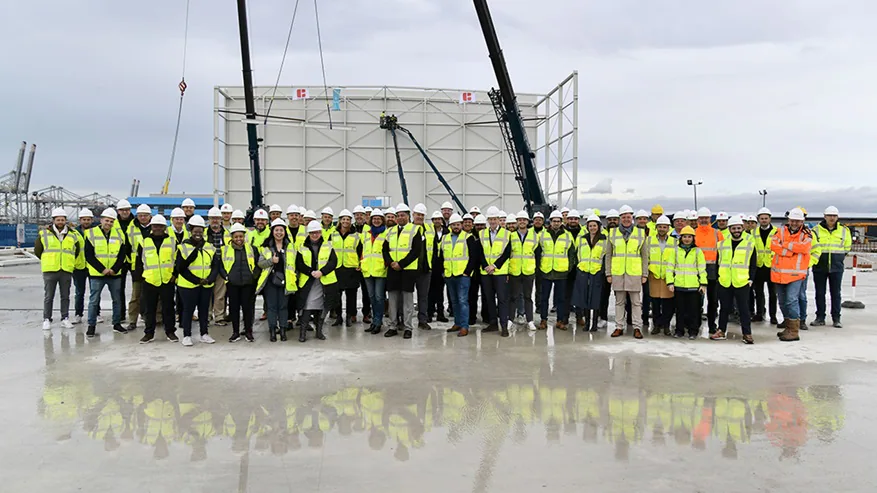 Construction started for Maersk's new cold store in Rotterdam
ROTTERDAM : With the official ground breaking Maersk has started the construction works for its new large cold store in Rotterdam (The Netherlands). The specialized warehouse for temperature sensitive or frozen products like pharmaceuticals, fruits, meat or fish is located right next to the Maasvlakte II terminal operated by APM Terminals. Once operational in Q4 2024 the new facility will have the capacity of an annual flow throughput of more than 43,000 FFE (40 Feet Equivalent Units). This will make it a key component of Maersk's integrated logistics offering for its customers across North-West Europe.
Increased demand for products which supply chains require storage in specific, low temperatures subsequently also creates demand for specialised logistics for transportation, but also for storage of perishables. The cold store in Rotterdam allows such goods to remain fresh and of highest quality for a longer time until they reach the end consumers. Apart from refrigerated container transportation, Maersk also offers refrigerated storage, extending the life cycle of perishables and allowing customers to better plan their supply chains.
The new refrigerated warehouse in Rotterdam is expected to significantly improve Maersk's cold chain offering not only in the Netherlands, but more broadly across North-West European markets. Customers will gain access to a 40,000 m2 facility located right next to one of Europe's most modern terminals at Maasvlakte II, operated by APM Terminals.
This proximity to the terminal, but also to our new cross-dock facility in Rotterdam which will be operational in January 2024 allows us to offer simpler and more integrated supply chain solutions right at our logistics hub in Rotterdam. That was one of the main criteria for its location and we expect it to be a significant game changer for our cold chain customers as well.

Michel Blonk

Regional Construction Project Manager for Europe
Facts about the cold storage warehouse:
Customs bonded facility
Positioned on a strategic location, adjacent to the APMT terminal ground
Commodities: Fruits, Frozen Fish & Proteins and Pharmaceuticals
Sustainable facility with BREEAM Excellent certification and renewable energy through solar panels
Inhouse veterinairy inspection point