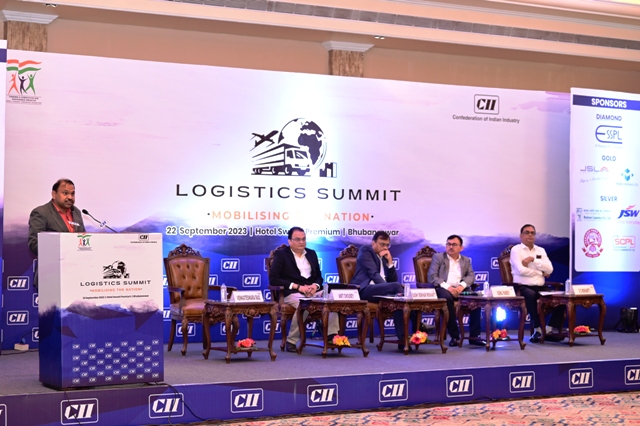 Container terminal at Paradip Port can bring INR 20,000 Crores worth of business to Odisha
BHUBANESWAR : A dedicated container terminal at Odisha's Paradip Port has the potential to bring as much as INR 20,000 crores worth of business to the state exchequer, said Jindal Stainless' Head, Logistics, Mr Venkateswara Rao while addressing the Logistics Summit yesterday. Presently, this quantum of business benefits the states of Andhra Pradesh and West Bengal.
Odisha, despite having the third largest port by cargo volume handled, remains the only state in India that does not have such a container terminal and is heavily dependent on the ports in Visakhapatnam and Kolkata for imports and exports.
Mr Rao was representing Jindal Stainless, India's largest stainless steel manufacturer, at the day-long summit, organised by the Confederation of Indian Industry (CII) and aimed at providing a platform for industry stakeholders to chart a roadmap in order to unleash the true potential of abusiness. The objective of Jindal Stainless' participation was to shed light on the need for operational excellence and strategies to sustain high growth in the ever-evolving logistics landscape.
The summit was attended by Minister of Commerce and Transport,Water Resource, Govt of Odisha, SmtTukuniSahu; Principal Secretary of Commerce and Transport, Govt of Odisha, SmtUshaPadhee, IAS; HAG/IRSE, Principal Executive Director (PED), Gati Shakti, Shri Anil K Khandelwal; and Chairman, Paradip Port Trust, Shri P L Haranadh, IRTS, among others.
Mr Rao, along with representatives from the private and public players, discussed the role of the government in the creation of supportive policies and regulations for the benefit of the transport and logistics sector, which would drive the economic growth of the region.
Mr Rao said, "The establishment of a container terminal at Paradip will facilitate better resource utilisation, reduce idle time, enhance profitability and create employment opportunities. Furthermore, the adoption of eco-friendly transportation will lead to a remarkable 400% reduction in carbon emissions, in line with the country's Net Zero ambitions."
In FY21, Paradip Port accounted for a mere ~7% of container traffic in Odisha, highlighting its huge untapped potential. With the emergence of Eastern India, particularly Odisha, as a major metals manufacturing hub, setting up a container terminal at Paradip has become imperative to support and sustain this growth.
According to the Federation of Indian Export Organisation, a 10% reduction in logistics costs has the potential to boost exports by 5%. Therefore, the development of a dedicated container terminal at Paradip holds immense promise not only for Jindal Stainless and the state of Odisha but also for the entire nation's logistics ecosystem – contributing to our collective goal of an Atmanirbhar Bharat.