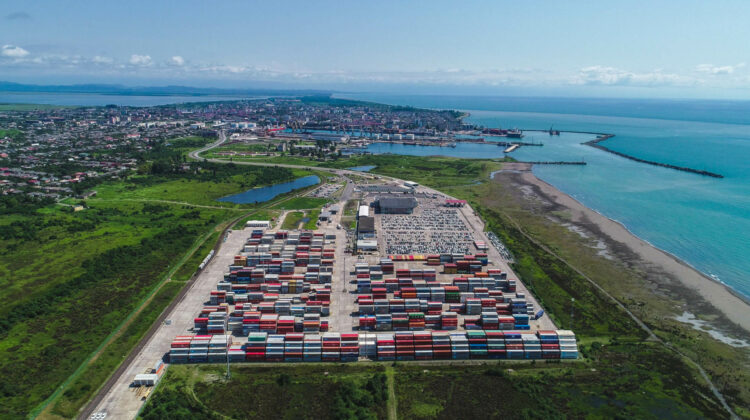 Customer focus at APM Terminals Poti recognized by Ryan Jones award

---
APM Terminals Poti was awarded the Ryan Jones Kaizen Team Leadership Award this month, for introducing radical change and inspiring staff through new and improved ways of working using lean methodology. One of the key outcomes recognised by the award was a cross-discipline project to make the stripping of used vehicles from containers more efficient and more transparent for customers.
The Ryan Jones Kaizen Team Leadership Award was established in honour of a late colleague at the company's joint venture operation, the Port of Tanjung Pelepas in Malysia. The award was set up in honour of Ryan's achievement in establishing a lean culture at the Port. "Through your ongoing use of our Way of Working behaviours, tools and leadership, you have built an inspirational culture and are paving the way to us becoming safer, better and bigger," – the APM Terminals statement reads.
In May 2021, the Port ran a Kaikaku Kaizen week. Kaikaku is the Japanese for radical change, during a limited time while a Kaizen, is a system of incremental improvements. During the week a team of of 15 staff from various departments dedicated their time to reviewing and revising all related processes related to the stripping of used cars from containers in the Poti Container Yard and identifying losses and inefficiencies. This is a key service provided by APM Terminals Poti.
Voice of the customer
This was combined with direct feedback from customers using Customer Journey Mapping to define their needs, pains and gains. The latter involves mapping out the total customer experience across all touchpoints between the customer and the organisation, from initial contact, through purchasing, after sales support. This helped the team identify the most important factors from the customers' perspective and identifies gaps between the desired customer experience and the one actually received.
The group prioritised 14 areas of improvement and 12 have already been implemented. These included more clearly defined and agreed procedures for stripping and inspecting containers, safety improvements, a new gate-in report for customers, a reduction in claims handling from 7 to just 3 days, improved customer communication and increased transparency through new cameras to enable the live streaming of the container striping. Shortly a new online booking platform will also be made available.
Increased market share
Customers are already responding to these improvements, with the terminal seeing considerable growth in this niche over the last few months.
---