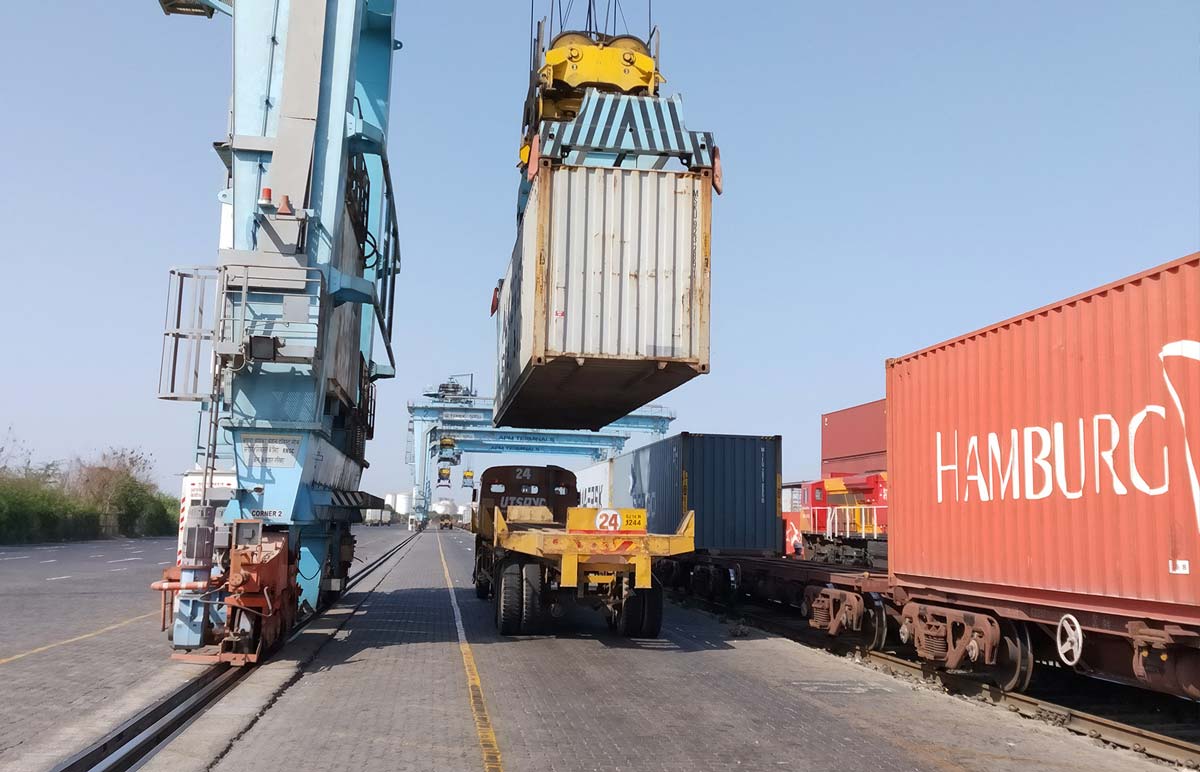 Dedicated Freight Corridor : A faster lane for India's freight transport
NEW DELHI : The Indian logistics sector has a reason to cheer. The exim cargo movement in India is getting cost-competitive, faster and predictable giving much-needed certainty for the trade, thanks to the Dedicated Freight Corridor (DFC).
A container train originating from Khatuwas, located close to Haryana-Rajasthan border, usually takes 3-4 days to reach Pipavav Port on the Southern Saurashtra Coast in Gujarat. But now that Pipavav Port is connected to the Western DFC through a double-stack rail networ, this duration has been reduced to less than 24 hours.
The WDFC connects Rewari in Haryana with Jawaharlal Nehru Port Trust(JNPT) in Maharashtra. But what excites the trade more is the connectivity of Gujarat ports — Mundra, Kandla, Pipavav, Dahej and Hazira with WDFC. Mundra, Kandla and Pipavav are already connected to DFC while connectivity of Dahej and Hazira is to be completed by June-July this year. So, by December 2023, all key ports on the West coast will get connected to the DFC enabling movement of double stack container trains.
This, according to Girish Aggarwal, MD, APM Terminals Pipavav, will enhance the convenience of moving goods to-from the ports. "Time taken to reach the hinterland is expected to reduce significantly as the double-stack trains can carry a larger volume of cargo per trip. This means shippers can move more goods in the same amount of time, leading to faster delivery times and reduced transit times."
The existing trunk routes of Howrah-Delhi on the Eastern Corridor and Mumbai-Delhi on the Western Corridor were saturated.
Rail line capacity utilisation increased upto 150 per cent.
Delays in clearances for freight trains over passenger trains added to uncertainty and cost escalation Railways lost the share in freight traffic from 83% in 1950-51 to 35% in 2011-12
Double-stack savings
The average speed of goods trains in India is 25 kmph, while on DFC route it is more than double at 60 kmph.
Railways expert Lalit Chandra Trivedi says that due to connectivity of ports with DFC through feeder lines, containerised traffic has started shifting to Mundra from JNPT. "Now the container trains can reach the ports within 24-48 hours. The cost of transport will be cut to 60 per cent of what it is today."
Further, the electrification of DFC and feeder lines with OHE (Overhead equipment) vertical clearance of 7.2 m against 5.5 m in normal electrified rail route is enabling shipping players to transport double the number of containers at the same cost.
With the double-stack rail network, Aggarwal says, shippers can reduce their dependence on road transport, which can be expensive and prone to congestion, delays, pilferage and other logistical challenges. The larger capacity of double-stack trains can lead to economies of scale, reducing the cost per container transported.
Another logistics major DP World Subcontinent had recently started a double-stack freight train facility between its inland terminal at Ahmedabad and Mundra port. Adhendru Jain, CEO, Rail and Inland Terminal, DP World Subcontinent says, "Traditionally, rail freight used the same tracks used by passenger trains, which impacted the schedule and reliability of rail freight trains, as passenger trains are prioritised in terms of movement. The dedicated freight corridors will address this issue and improve the transit time of the cargo to/from the hinterlands."
Better management
In view of this dependability, shipping lines are now chartering ships on time-charter and are also leasing trains. They can now synchronise trains with the ship timings.
Conventionally, the export shipment used to have 14-15 per cent as logistics cost. It has now come down to 7-8 per cent. Additionally, the predictability of cargo movement helps manage inventory better. More companies would opt for 'just-in-time' inventory, eventually bringing down the capital required for stocking inventory.
Quick facts on DFC
Dedicated Freight Corridor (DFC) project was conceived in 2005
Two DFCs – Eastern DFC (EDFC) and Western DFC (WDFC) were approved in 2008
Land acquisition began and till 2014 88% of total land was acquired. Issues of disputes, arbitration & court cases affected land acquisition.
After nearly a decade since the announcement, not a single patch was completed.
Railways started losing more traffic to roadways
Total length: 2,843 Kms (WDFC 1506 kms, EDFC – 1337 kms)
Commissioned till date: 1,320 (WDFC – 786 kms, EDFC – 534 kms)
Expenditure incurred: ₹89,436 crore till March 2022
Players like APM Terminals Pipavav see this potential. Aggarwal states that "the WDFC is designed to support heavy haul freight transportation, with special attention given to track strength, signalling and electrification. This makes it a safe and reliable option for transporting complex and heavy containers, allowing shippers to move more complex and heavy containers per trip and improving the overall efficiency of the transport."
Meanwhile stakeholders also see potential areas of improvement to make this DFC future-ready, effective and sustainable. Some important aspects include enhancing the complimentary infrastructure at the ports, in the inland terminals and at the private fright terminals for smooth last mile-first mile connectivity.