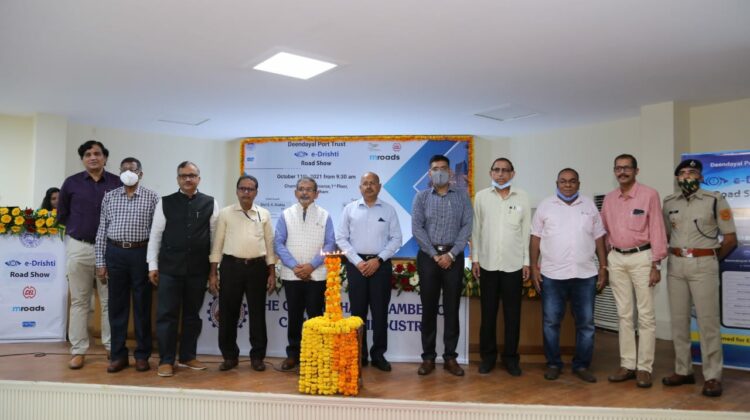 Deendayal Port Trust launched step part of 'e-Drishti' project for Port Users

---
GANDHIDHAM : Deendayal Port Trust (DPT) has invited port users and requested CEL and its technology partner mroads to showcase the technology demonstration during the road show as a launch step part of e- Dristhi project to the Port Users. With an aim to sensitize them, for smooth migration from paper based Gate Entry/exit System & Port Operations to digital system, which will aid ease of doing Business and Transparency in the Port.
This is a good governance initiative that incorporate the government of India ministry of ports vision to modernize major ports and provide services closer to port user and facilitates a 'go green entry and exit' as a hassle free service 24x7x365 faster, easier and transparent access to ports. DPT has initiated the e- Dristhi project with the following envisioned services.
e- Dristhi means "an electronic access and surveillance " i.e services to port users.
e-Drishti is an integrated intelligent system comprising of the following advance technology subsystems:
Smartcard technology-based Port user identification & tracking including
• employees, registered port users, labor contractors, party representatives, engineers, representatives of government agencies, visitors, drivers and cleaners, equipment operators, drivers of private vehicles, foreigners.
Ultra- High Frequency (UHF-RF) based Automatic Vehicle identification & tracking covering
• trucks, trailers, payloaders, dumpers, tippers, and other equipment's & heavy motor vehicles (HMVs) as well as heavy earth moving equipment's (HEMEs)
GPS based online geo-fencing of cargo & vehicle movement from berth to gates for optimal Turn Around Time (TAT)
Three- Dimensional Image Capture of Cargo, Driver, & Vehicle for audit trail
High Frequency (HF-RF) based automated entry & exit with hydraulic gate barriers (HGB)/ tyre killers
Automatic Number Plate Recognition subsystem to capture license plate and verify against registered vehicle number
Real-time LED visuals for CISF at the site to verify registered images of person, vehicle, and authorized material
Handheld Terminal for mobile spot checking of person & vehicle stranded in Port premises and managing queue movement at the gates
Kiosk based Automatic RFID Pass Renewal subsystem to reduce delays, queues & congestions
Online 24/7 operational web-based Loading Order & Permit Issue system for the convenience of trade
Online payment, Mobile, & other cashless payments
Proactive trade engagement with Email, SMS, & Mobile communication & notification of activities
Command Control with in-time visuals for live monitoring & efficiency enforcement across the Port authority area round-the-clock
Intelligent Analytics with offline image & data processing to identify anomalies & patterns with actionable insights
High availability master application, database, system, & network with redundancy & failover fault tolerant systems
Hot Swappable Online automatic backup subsystem with archival & retrieval storage subsystem for historical mult-year record keeping
Open Integration APIs & Interoperability for multi-dimensional integration with ecosystem stakeholders including Customs, MoS, IPA, NHAI, etc systems
PIDS, CCTV surveillance with long range rugged thermal cameras with night vision capabilities is also planned by this year end.
Chairman, DPT in his inaugural speech mentioned to implement the RFID project by April 2020, which got delayed due to Covid-19. However, he expressed his satisfaction on the launch of services by December of this year. He further requested trade to help in building the user friendly application and can make avail services.
Dy. Chairman, DPT in his inaugural speech asked the Port Users to freely bring out their requirements, after the demonstration of the capabilities of the project so that necessary customization as per the requirement of the trade can be done, to make the project success.
The road show was inaugurated by Shri S.K. Mehta, IFS , Chairman, DPT in the presence of Shri Nandeesh Shukla, IRTS, Dy. Chairman, Shri L. Satyanarayan, Labour Trustee, Capt. Santoshkumar, Trustee representing MMD, Shri Tejabhai, Vice President, Gandhidham Chamber of Commerce, Shri. B. Bhyagyanath, FA &CAO & project implementation HOD, Shri Harichandran, Secretary, Shri G.V.R. Prasad Rao, Traffic Manager, Shri Kapil, Incharge Commandant in presence of members of Port User representatives, Members of the Press, Officers of the Port, EDP team lead by Shri Ajay Gupta, Sr. DD (EDP), NISG representatives & CEL & Mroads representatives.
---