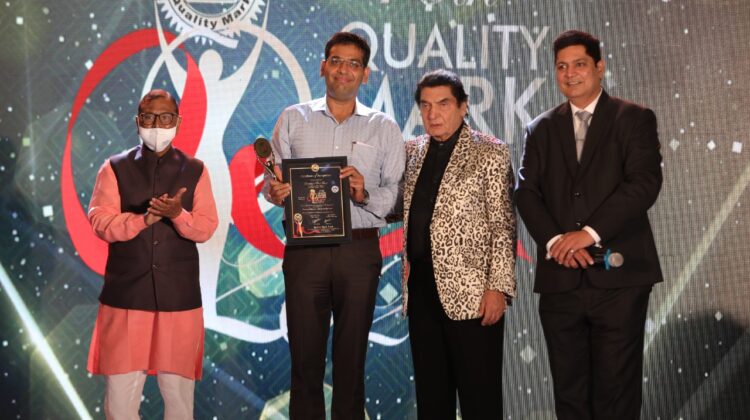 Deendayal Port Trust wins" Pioneer in Maritime Service Award"
AHMEDABAD : The 'Quality Mark Awards' organized by the Quality Mark Trust is the tenth edition this year, honoring an organization under the concept of Make in India by the Quality Mark Trust which is making its mark in the fast moving market in the industry.
Cabinet Minister of the State, Shri Kaushikbhai Patel and Shri Kunwarjibhai Bawliya were present as the Chief Guest at the Quality Mark Awards 2021 at Double Tree by Hilton Ahmedabad on 10 August 2021 along with Guest of Honour Shri Kiritbhai Solanki, Member of Parliament for India, M L A – Ider ShriHitu Kanodia & M L A Mehmdabad Shri Arjunsinh Chauhan. Besides, Shri DilipSanghani of RashtriyaSahakari Sangh Bharat, BJP MahilaMorcha, President of Gujarat State Dr. Deepika Sarvada and BJP YuvaMorcha, former president of Gujarat state Dr. Rutvij Patel was also present as Distinguished guest . Special Guest Mr. Asrani and Bhumi Trivedi from Bollywood were present,
The Quality Mark Award (10th Edition) organized at Ahmedabad. Deendayal Port Trust, the No. 1 Major Port of India has been recognized and honoured as "Pioneer Industry in Maritime Services" for its outstanding Cargo Handling of 117 MMT during the year 2020-21. The Award was received by Shri Nandeesh Shukla, IRTS, Dy. Chairman DPT.
During a conversation with Mr. Hetalbhai Thakkar, President of the Trust, said that the last nine programs of 'Quality Mark Awards' have been highly appreciated by theentrepreneurs. More than 800 entrepreneurs from 16 states of India have participated in these awards. Apart from the industry, women entrepreneurs and individuals associated with the service industry have also participated in the 'Quality Mark Awards' out of which about 35 entrepreneurs were honored today.
Bhai Bhai Fame, Mr. Arvind Vegda, who is associated with the organization, further said that the vaccine certificate has been made mandatory for every guest coming in the Quality Mark Award this year and the Quality Mark Award will be broadcast through VTV News and the organization needs Special thanks also to Top FM for their contribution.
Source : DPT