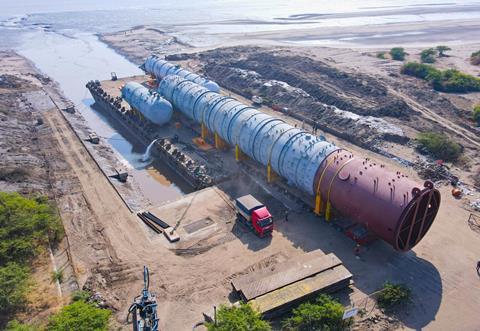 deugro establishes Specialized Heavy-lift Equipment Company in India
MUMBAI : deugro has established DHP Heavylift Solutions Pvt. Ltd. to operate own barges and specialized trailer equipment in India. The initial investment refers to two barges as well as four Goldhofer heavy duty modular trailer combinations, each with 6 axle lines (PST/SL-E), that will enable deugro to significantly participate in the development of the emerging Indian market.
deugro Projects (India) Pvt. Ltd. has become a market leader in project forwarding in India. Challenging, complex shipments and projects involving overdimensional cargo (ODC) and heavy lift shipments along the coast and into the hinterland have become day-to-day business and always require unique transport solutions.
The smaller of the two barges will allow for reaching far into the Indian inland waterway network, which provides significant advantages to clients.
India remains an emerging market with enormous potential for the coming years and strong plans for a greener future. The investment into own equipment underscores deugro's commitments towards clients.