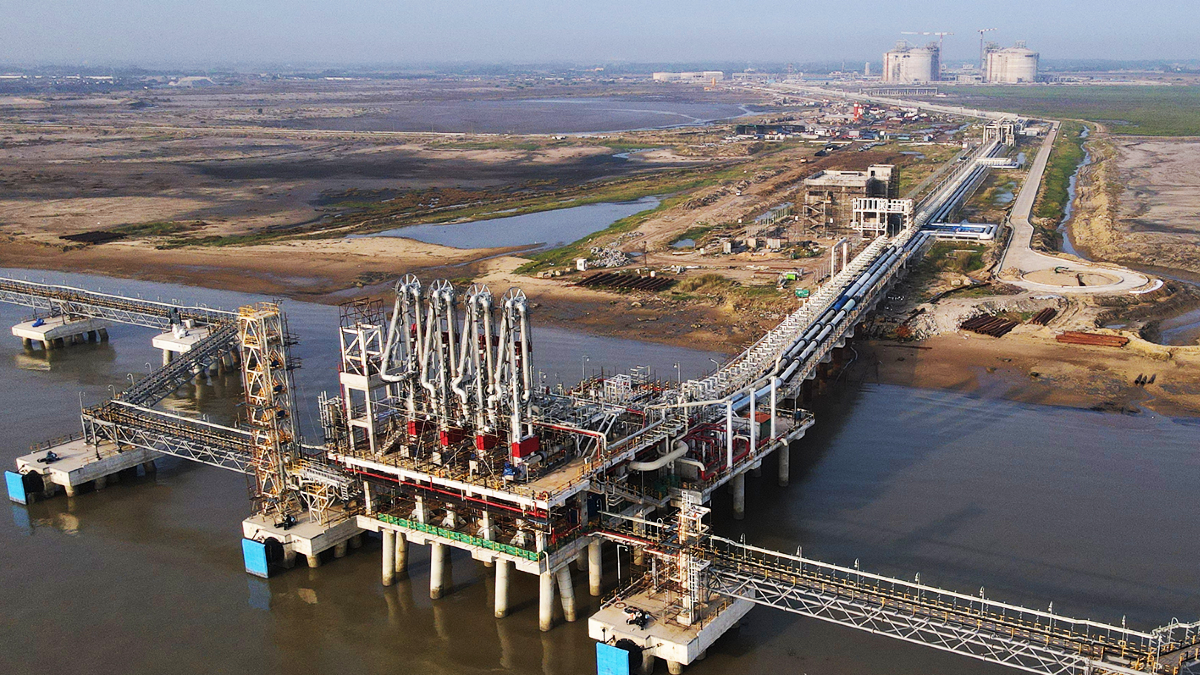 Dhamra LNG terminal to save over Rs 5,000 crore annually for its users
BHUBANESHWAR: Dhamra LNG terminal, a joint venture of Adani Ports & SEZ and TotalEnergies of France, will save over Rs 5,000 crore annually for its users and act as a main source of gas to more than 35 per cent of India's population.
The LNG terminal, located within in Dhamra port, will service more than eight energy starved eastern states by substituting expensive fuels like Naphtha and high speed diesel (HSD), said a source.
There has been no amount upfront or during the project either as cash or bank guarantees that has been given by Indian Oil Corporation (IOCL) or Gas Authority of India (GAIL) to the project, the official said, reacting to allegations about the project cost borne by the PSUs.
Adani Ports & SEZ and TotalEnergies have jointly invested Rs 1,900 crore in the terminal project so far and the Adani firm started investing in the project from 2016 onwards and the project was commissioned in May this year. All risks related to the completion and performance of Dhamra LNG was borne by the Adani-Total Energies joint venture, the source said.
The source said the tariff and commercial terms of Dhamra LNG Terminal, inclusive of port charges, was arrived at after competitive benchmarking. Petronet LNG, a PSU, operates India's largest LNG terminal at Dahej and was used as benchmarking the tariff and commercial terms of Dhamra project.
In fact, Dhamra's tariff is 1.5 per cent lower by Rs 46.49 per tonne or Rs 21 crore annually over 4.5 million tonnes of LNG capacity use than Dahej LNG terminal charges and has better commercial terms, the official said.
LNG supply from Dhamra instead of Dahej to the nearby markets of IOCL and GAIL (e.g., refineries and fertiliser plants in UP, West Bengal, Bihar) helps these users save at least Rs 800 crore annually on pipeline tariff alone.
IOCL and GAIL are owners of gas molecules at all times during the process of using Dhamra LNG Terminal. Both IOCL and GAIL contract for LNG volumes internationally from global suppliers. Besides, the Dhamra LNG terminal itself will not buy and sell LNG during the operations of the facility and only provides the service of gas handling and dispatch, the official said.
An offer was made to IOCL and GAIL to take equity in Dhamra terminal, but the PSUs did not exercise the option as their strategic objective was to supply gas competitively to their consumers in East India.
At the same time, Dhamra terminal was able to offer commercially competitive terms to its users. Hence, IOCL and GAIL's strategic objective was met without injecting equity, and they decided to progress on a capacity booking basis only, the official said.
Dhamra Port Company (DPCL), on the other hand, is a 100 per cent subsidiary of Adani Ports and SEZ and was awarded the concession by the Government of Odisha to build and operate a port north of the mouth of the river Dhamra on Build, Own, Operate, Share and Transfer (BOOST) basis for a total period of 34 years, including a period of four years for construction.