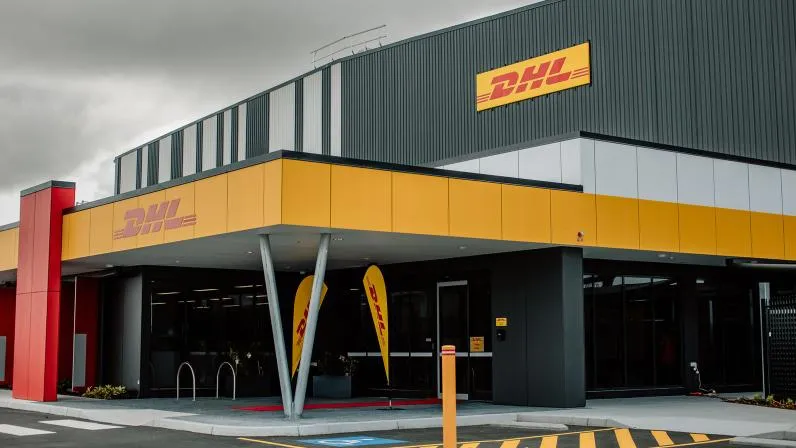 DHL Global expands its CFS space in Bangladesh
DHAKA : Amid severe warehouse scarcity in Bangladesh, DHL Global Forwarding, the freight specialist arm of Deutsche Post DHL Group, has invested over US$2.2 million to expand its dedicated Container Freight Station (CFS) space in the country.
The newly built facility in Chittagong, the top seaport city, mainly aims to cater to the country's ever-growing readymade garments (RMG) industry.
Bangladesh has 19 CFSs countrywide where building a good number of ICDs or off-docks is required to meet the growing demands. The country's apparel manufacturers, the top users of the port and off docks facilities, had long been demanding the government to allow the setting up of more off-docks.
Presently two container depots with a capacity of handling 12,000 TEUs are now under construction.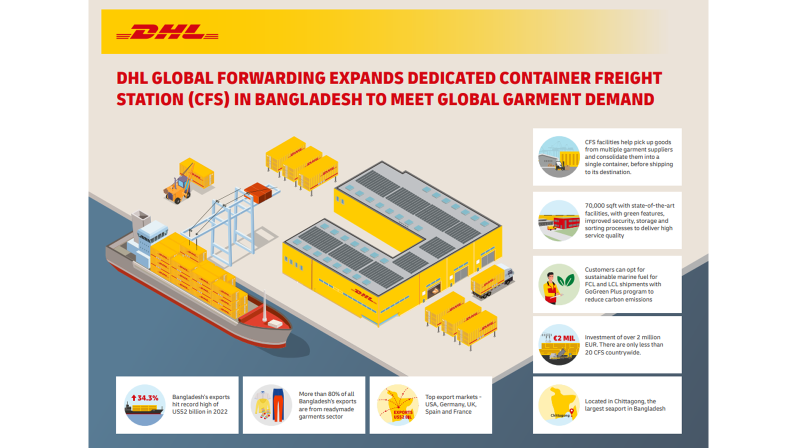 On 2 May, DHL said the expansion to the 21,336 m² facility's location will allow for quicker access to the Chittagong port, where goods can be promptly shipped out on ocean freight.
"The dedicated facilities also boast green operations to reduce carbon emissions," said the company.
In Bangladesh, cargoes are first transported from the factories to the CFSs, located mainly in Chittagong, by truck or covered vans where they are stuffed into containers. Later, the boxes are shifted to the vessels for shipment. The 19 CFSs in Bangladesh have the capacity to handle a total of 78,000 TEU containers.
The CFSs handle almost 100% export containers alongside 37 types of goods-laden import boxes and empty ones.
Bangladesh's exports for FY 2022 hit a record high of US$52 billion for the first time in history as its exports continue to enjoy steady growth due to its strong RMG sector, with a 34.3% increase in export earnings compared to FY 2021, the DHL said.
The RMG Industry plays a substantial role in the country's exports, accounting for more than 80% of all exports. The leading markets for RMG include the USA, Germany, the United Kingdom, Spain and France.
"The expansion of the DHL Global Forwarding dedicated CFS facilities will aid the growing demand for Bangladesh's readymade garments worldwide," noted Fabian Rybka, Cluster Head Bangladesh, Sri Lanka, Maldives, Nepal, Bhutan, DHL Global Forwarding.
"With its exports reaching a whopping 42.6 billion USD, Bangladesh's readymade garments industry has grown significantly due to its strong manufacturing capabilities and competitive labor costs. Improved security, storage and sorting processes at these CFS facilities enable us to deliver high service quality to our customers while ensuring that it complies with EU/US quality standards," he said.
"By operating from these facilities, we can further strengthen our environmental, social and governance foundation which is an integral part of our corporate sustainability agenda," he added.
Feroz Jahangir, COO and Head of Value Added Services, DHL Global Forwarding Bangladesh, said with Bangladesh being the second-largest readymade garments exporter in the world, businesses must ensure that they employ the right supply chain solutions to ensure that their exports can reach consumers in a cost efficient and timely manner.
"These facilities will support the growth of less than container load shipments especially from the rising demand of e-commerce," he added.
The DHL Global Forwarding dedicated CFSs are located in Chittagong, a port city that houses the largest seaport in Bangladesh, Chittagong Port, which handles more than 92% of Bangladesh's import-export trade.