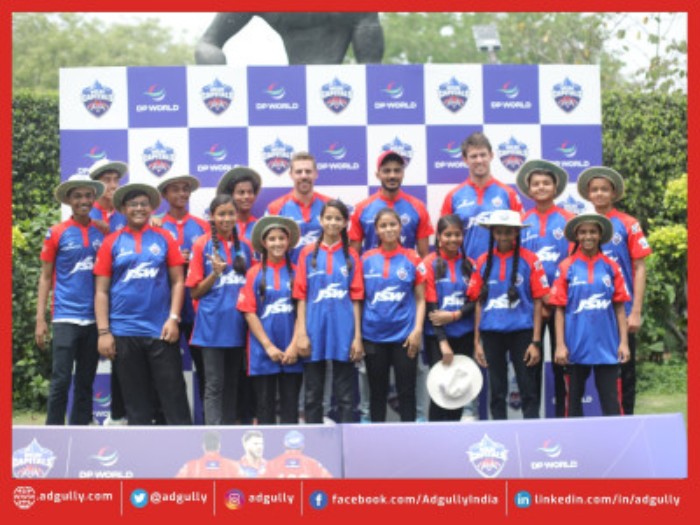 DP World and Delhi Capitals Spread Cricket Cheer
NEW DELHI : DP World recently hosted 5 children from Akshaya Patra Foundation, an NGO that is working towards eliminating classroom hunger in India, for a unique fan experience during Delhi Capitals match on 29th April. The children from the foundation were joined by His Excellency Dr. Abdulnasser Alshaali, Ambassador of the UAE to India and DP World representatives. During the match, DP World and His Excellency also presented a donation cheque to Akshaya Patra Foundation to support the world's largest (not-for-profit run) Mid-Day Meal Programme serving wholesome food every school day to over 2 million children.
Earlier last week, 14 children from Akshaya Patra Foundation were treated to a fun filled day, as part of a special meet and greet session organised by DP World. Delhi Capitals players Axar Patel, Mitchell Marsh, and Anrich Nortje had an engaging informal Q&A session with the children and played a game of garden cricket at the ITC Maurya grounds. Five of these girl children were invited to the VIP box at Arun Jaitley Stadium to witness the Delhi Capitals' match on 29th April 2023.
His Excellency Dr. Abdulnasser Alshaali, Ambassador of the UAE to India, said, "India is an important strategic partner for the UAE. We have many cultural similarities in sports, food, and architecture. Sports and food in a special way have the unique ability to bring people closer together. As a sports enthusiast, I am extremely happy to have witnessed my first cricket game in India at the historic Arun Jaitley Stadium. But to have witnessed this great game in the company of my young friends from Akshaya Patra has made it even more memorable. We want to commend Akshaya Patra for the work it is doing in supporting school children with nutritious meals."
Rizwan Soomar, CEO & MD India Subcontinent & Sub-Saharan Africa, DP World, said: "We are happy to partner with Akshaya Patra Foundation in strengthening their effort to provide millions of children in Delhi with wholesome mid-day meals. This aligns with our own endeavour of partnering with countries across the world to ensure food security by connecting demand to supply, thereby reducing wastage wherever possible. We are extremely grateful to Delhi Capitals for enabling us to spend time and encouraging the children from Akshaya Patra Foundation to pursue their education and passion for sports with dedication."
Mr. Shridhar Venkat, CEO, of The Akshaya Patra Foundation, "We are extremely grateful to DP World for providing our children with this once in a lifetime experience and for its continued support in ensuring that millions of children continue to receive one hot-nutritious school meal a day. This initiative encourages children to come to school, thereby satisfying their hunger for knowledge as well." 
DP World is the Global Logistics Partner for Delhi Capitals. Through its world-class multimodal logistics capabilities spread across more than 75 countries, DP World ensures seamless movement of trade around the world, including India. DP World's agile, reliable, and transparent supply chain solutions help deliver fresh produce from farm to plate in the most efficient manner and, and actively works towards strengthening food security of nations by connecting demand to supply.