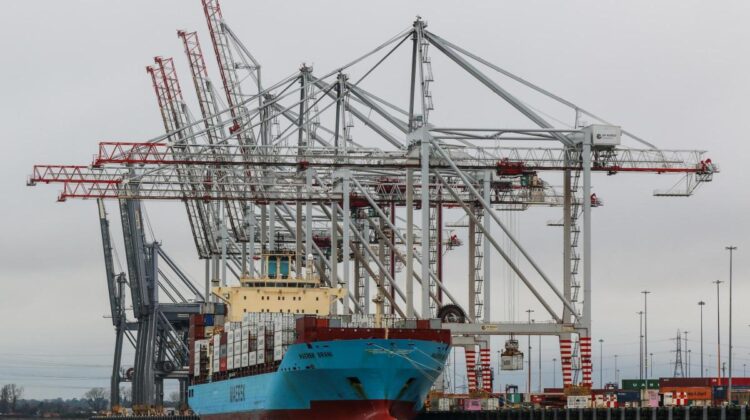 DP World in Southampton expects more jobs and growth with freeport plan
SOUTHAMPTON : PORT Terminal Operator DP World is in Southampton "for the long term", with more jobs and growth expected after a £40million investment, its UK boss has told the Daily Echo.
The Dubai-based logistics business recently unveiled a spending package in the city which includes dredging and widening berths to accommodate future generations of container ships.
Mr. Ernst Schulze, DP World's UK Chief Executive, said the investment would make sure "we can provide the capacity for the market".
"We see the market changing. The ships are getting bigger so what used to be the standard 20-25 years ago is a not the standard these days," he said.
"Ships are getting bigger and bigger, they're more than 400 metres long."
He added: "We have 600 people working with DP World here and there are a lot of other people that are employed because were here – all kinds of companies that have capacity because we're here.
"It creates a lot of jobs."
DP World says 87 per cent of people who work for it in Southampton live within a 10-mile radius of the site.
It has a long-running apprenticeship scheme which took 14 people last year, in areas including IT and engineering as the industry becomes ever more concerned with technology.
"We will always need people. In the future, we'll need more people, so we want to make sure that we're part of the local community and they see us as a positive employer with a good future," said Mr Schulze.
He also expects Southampton to be boosted by the plans to create a freeport in the Solent region, along with a similar Thames Feeport project involving DP World's other UK site at London Gateway.
"That will create inward investment and that secures more business more jobs, more growth. We're very happy that the locations we are in are part of freeports," he said.
"We're working very hard to make sure that's going to be beneficial for us but also for the country.
"The idea of a freeport is that you create incentives – tax incentives, custom incentives – that make the procedure easier to get goods in and out of the country," he added.
DP World's £40m investment includes £1.5m to extend a crane rail by 120 metres, ensuring the world's biggest cranes can service all the berths.
There will be £10m spent on 11 hybrid straddle carriers – the vehicles which lift the containers that are moved on and off ships by crane.
Another £3m will be invested in redevelopment for the storage and delivery of empty containers, increasing capacity by 25 per cent. A new border control post will enable several government agencies to speed up checks on cargo.
Mr Schulze said the investment would help the company towards its environmental goals, which require spending on technology.
The business's emphasis on servicing rail freight is already calculated to take 300,000 trucks off the road each year.
Trucks collecting containers from the port are currently turned around in an average of 35 minutes.
Source : Southern Daily Echo