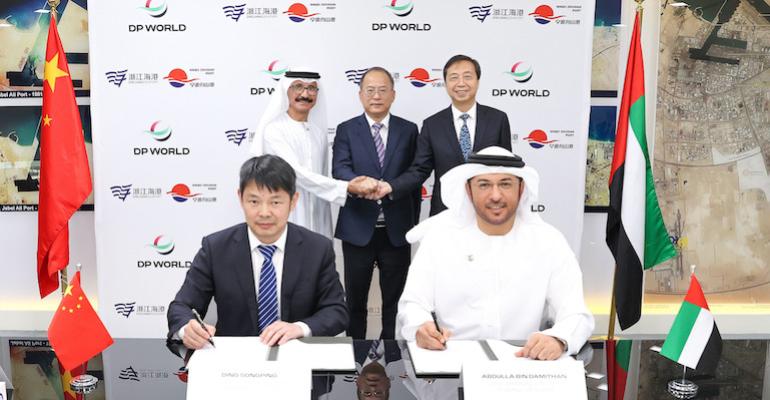 DP World inks agreements with China's Ningbo-Zhoushan Port and Zhejiang Seaport 
DUBAI : Dubai's state-owned DP World signed agreements with China's Ningbo-Zhoushan Port and Zhejiang Seaport on Friday, to cooperate on automobile industry chain services and logistics.
Ningbo-Zhoushan said it will boost the deal as part of China's signature investment project, the Road and Belt Initiative.
This comes a day after DP World, the fourth-largest operator in container terminal activities, hosted a promotion in Beijing on Thursday to encourage Chinese investment.
DP World, one of the world's biggest port operators, signed a memorandum of understanding with two Chinese seaports on Friday.
Ningbo-Zhoushan port said it aims to create an express logistics channel service to the Middle East and North Africa and enhance trade between China for trading, logistics and cross-border e-commerce companies, reported from a news service.
DP World owns and manages Jebel Ali, the Middle East's largest shipment port, and the Jebel Ali Free Zone (Jafza), which sustains 135,000 jobs, according to the free zone's website.
At the Beijing event, Tariq AITayer, Assistant to the Chairman of DP World, said that Dubai should be viewed as a gateway for not only the Middle East, but East Africa and India as well, according to state-owned China Internet Information Center.
"There is no limit in terms of sectors, but the industrial, manufacturing, trade, import, and export sectors will benefit most from the incentives of Jafza," said AITayer in the report.
Jafza's benefits include 100% foreign ownership and tax exemption on income, exports and imports. However, a 9% corporate tax on business profits over $102,000 (375,000 AED) will be implemented for the first time on most Emirati companies starting in June.
Al-Tayer was quoted saying that 400 Chinese companies have set up operations in Jafza and created more than 1,500 jobs,according to CNNIC.
The United Arab Emirates is drawing more interest from Chinese businesses as the Gulf state actively courts investment from the world's second-largest economy.
Over 6,000 Chinese companies have set up operations in the Emirates in the last few years, with bilateral trade predicted to reach $200 billion in 2030, according to global business and legal services provider Intertrust Group.
The company states that the UAE's geographical location connecting Central Asia, Africa, Europe, and the Middle East serve as major incentives for investment.
UAE-China trade amounted to more than $72 billion in 2022, according to state-owned Emirates News Agency, an 18% growth from 2021.
Developments between China and Gulf countries have sped up since December of 2022, when Chinese President Xi Jinping visited Riyadh for the first time in nearly seven years. The two countries signed initial agreements worth more than $29.26 billion and agreed to build their economic and development cooperation.
This partnership extended to other GCC countries, including the UAE, which signed three nuclear agreements with Chinese energy organizations on Sunday. Last week, the UAE and Kuwait were granted dialogue partner status in the Shanghai Cooperation Organization, further boosting China's inroads in the Arab Gulf region.
In April, China International Capital Corporation said it plans to expand its reach in the UAE and Saudi Arabia.
Before that, in late March, the UAE was part of a historic transaction when China conducted the first ever yuan-settled energy deal that involved some 65,000 tons of Emirati liquified natural gas.
China brokered diplomatic ties between Iran and Saudi Arabia in March, opening doors to more influence in the region, although its goals remain largely economic.