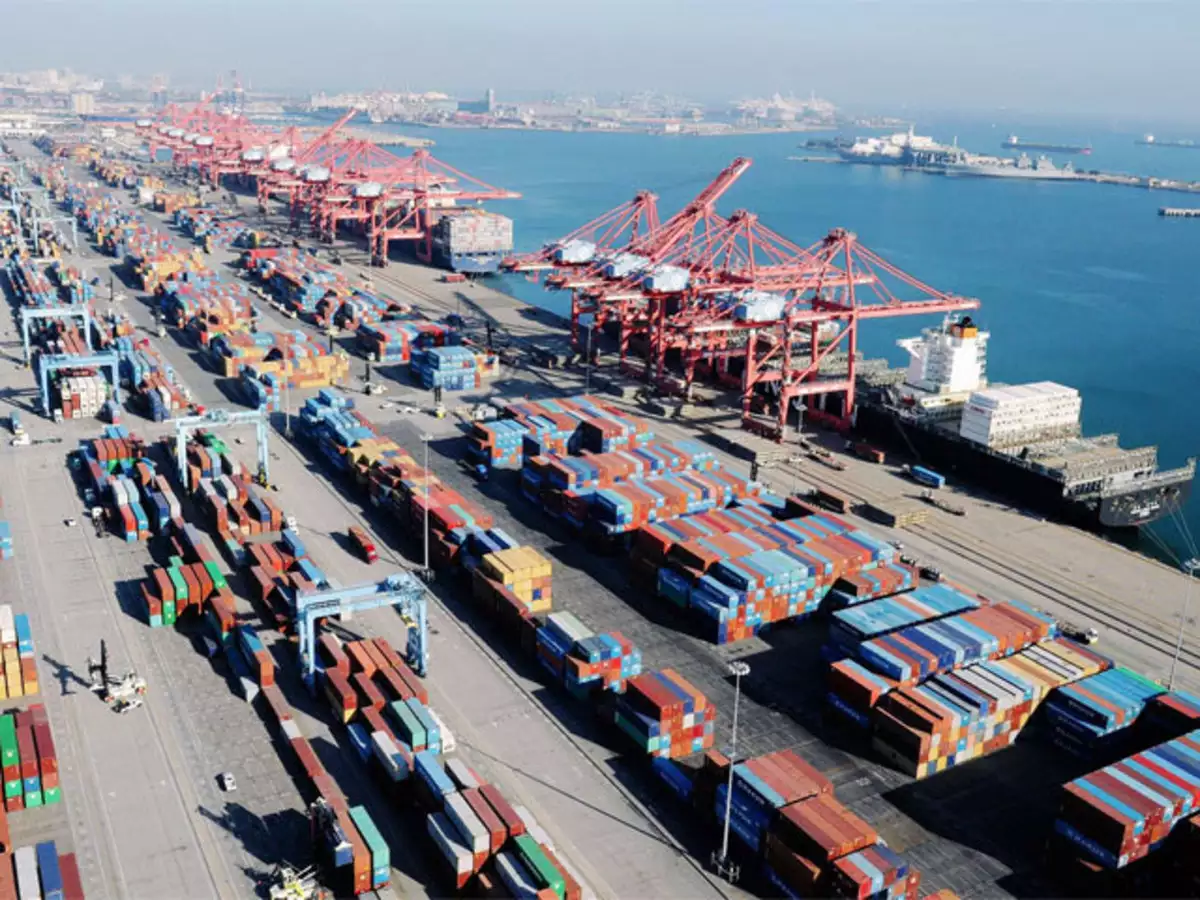 DP World stuns port industry with Rs 6,500 per TEU,a container royalty bid for Tuna-Tekra Terminal
GANDHIDHAM : Hindustan Ports Pvt Ltd – the Indian unit of Dubai's D P World Ltd – is set to win the rights to build a 2.19 million twenty-foot equivalent units (TEUs) capacity container terminal estimated to cost Rs 4,243.64 Cr at Tuna-Tekra in Deendayal Port (formerly Kandla port).
The global port operator owned by the Dubai government placed the highest royalty price bid of Rs 6,500 per TEU when the price bids were opened on Friday, a government official with knowledge of the bid results said.
Adani Ports and Special Economic Zone Ltd (APSEZ), the only other bidder to submit a price bid, quoted Rs 1,500 per TEU as royalty, he said, asking not to be named because the results have not been made public yet.
The Letter of Intent (LoI) is expected to be issued to D P World later tonight, the government official said.
Deendayal Port Authority runs the country's biggest State-owned port by volume at Kandla in Gujarat and TunaTekra is a satellite facility located some 15 kms away. The Tuna-Tekra container terminal forms a part of the National Infrastructure Pipeline.
D P World's high royalty price bid has stumped the port industry. "I can't believe this," said a top official with a port company. "it's a Rs 4,000 crore capex project," he added, asking not to be named. "I am shocked and stunned,' said a port industry consultant requesting anonymity. Having lost the race for the Jawaharlal Nehru Port Container Terminal (JNPCT) deal, where it had the maximum at stake to win the tender, D P World was expected to mount an aggressive bid for the Tuna-Tekra terminal but not to this extend, port industry sources said.
D P World's two terminal contracts in Jawaharlal Nehru Port – India's second biggest container gateway – will complete their 30-year tenures sometime in 2028. Also, D P World's terminal concession at Mundra port, located some 60 kms away from Deendayal port, is coterminus with the 30-year concession awarded by the Gujarat government to Adani Ports and Special Economic Zone Ltd (APSEZ) for Mundra, which will end in February 2031.
There is no clarity or certainty on the extension of these terminal concessions, leaving D P World with limited options to retain its strong footing, built over many years, on India's Western seaboard.
The planned box terminal will have the capacity to cater to as much as 21,000 TEU-capacity ships. "This means the biggest of the container ships that are currently being constructed can come to Tuna-Tekra," Deendayal Port Authority Chairman S K Mehta told in July last year.
Initially, the terminal will have a depth of 14.5 metres without tidal restrictions. There is a provision in the tender to increase the depth to 18 metres based on mutual consensus between the two parties and on cost sharing basis, he said.
The successful bidder will be free to set rates based on market conditions, another plus point for the project, unlike in the past where rates were regulated.
Deendayal Port Authority Deputy Chairman Nandeesh Shukla had pitched the terminal to private investors during a road show held in Mumbai in July 2022, highlighting the logistical efficiency it enjoys with regard to the port's hinterland (cargo generating areas).
"The cost of transporting any goods over land is much costlier than transporting it over water. So, the closest port will always have an edge and Deendayal Port is the closest port to the northern hinterland including NCR Delhi, UP, Punjab, Haryana," Shukla stated.
Tuna-Tekra is shorter in distance to the inland container depots in Northern India compared to Mundra and even Jawaharlal Nehru Port.
Tuna-Tekra is 60 kms inside from Mundra, but the rail connectivity will be even lesser because the rail line runs close to Gandhidham.
"So, the rail advantage will be about 50 kms for Tuna-Tekra. In railway parlance, this means that at least one slab less, which means at least 5-7 percent of freight saving per rake. This is a huge advantage because container trade thrives on railways," Shukla asserted at the time.
The planned container terminal will be capable of handling three vessels at a time with a backup area of 55 hectares and more land is available if the operator wants, he added.
Source : ET Infra