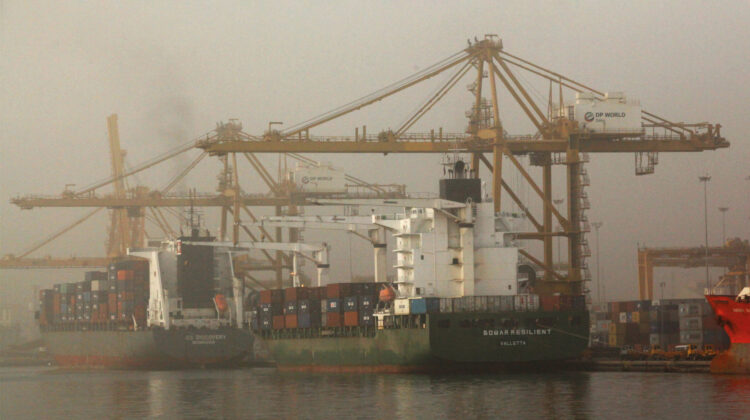 DP World's mega-port to turn Senegal into trade hub
DUBAI : Dubai-based logistics company DP World is investing $1.1bn in a new container port close to Dakar, the Senegalese capital, with the potential to turn the country into the maritime gateway to west Africa.
The new port will be located at Ndayane, about 50km down the coast from the existing highly-congested port of Dakar, and close to Blaise Diagne International Airport (which opened in 2017 and took in $620m of investment by the African Development Bank, the Islamic Development Bank, and Agence Française de Développement). The port's construction is expected to start next year and be completed by 2026. DP World's concession enjoys two 25-year terms and starts once operations begin.
Ndayane will be a modern, deep water port, with up to 3km of quayside when fully completed. The $837m phase one of the development includes a new container terminal with 840 metres of quay and a new 5km channel designed to serve 336-metre vessels and capable of handling the world's largest ships. The $290m phase two will include 410 metres of additional container quay and a further dredging of the marine channel to handle 400-metre vessels. The container terminal will occupy up to 300 hectares of land, while the port's maritime infrastructure will take up a further 600 hectares. DP World also plans to develop a special economic zone (SEZ) adjacent to the new port.
Building on growth
"Senegal has been one of the fastest-growing countries in Africa and we believe it has strong potential for further economic growth," says Suhail Albanna, the chief executive officer of DP World Middle East and Africa region. "The development of a new deepwater port will reinforce Dakar's role as a major logistics hub and gateway to west and north-west Africa. Modern, efficient and competitive ports are key to driving economic growth, and Senegal sees the importance of this strategic sector to its future development and position as a key trade hub.
The francophone west African country, with an estimated gross domestic product of $24.4bn in 2020 and a population of 16.8 million, saw average economic growth of 6.38% between 2014 and 2019, according to the International Monetary Fund (IMF). However, it estimates that the economy expanded by only 1% last year, losing around six percentage points of growth because of the pandemic. It is in the process of revising down its forecast of 5.2% growth this year because of the global impact of the Covid-19 second wave.
"The new port will unblock Dakar," says Victoria Billing, the UK's ambassador to Senegal. "The city's downtown area close to the existing port is gridlocked. That port cannot expand any further and is not big enough for modern container ships. DP World's investment will make Dakar the key port in west Africa. The existing port [already] handles around two-thirds of all Mali's trade, for example, but cannot cope with any further growth in traffic."
Looking further
The transit corridor between Dakar and Bamako, the Malian capital, carries an average of 700 trucks per day between the two cities, according to Vallis Group, a marine and cargo services company. The Senegalese government, led by president Macky Sall since 2012 – also wants to build a modern $2bn, 1500km railway line between DP World's new port at Dakar and Bamako. China Railway Construction Corporation is being lined up to construct the railway but plans have still not been finalised.
"I think the new port will be a boost to the Senegalese economy," says Papa Sall, Citi's country officer for Senegal and and head of west and central Africa. "It will make Dakar the biggest container port in west Africa. Around 20% of all the government's revenue comes from customs duties from the existing port and so the new port could really help to improve the government's revenues, too. I believe that DP World's SEZ located beside the port and the planned railway development between Dakar and Bamako will attract many more foreign investors to the country. These are strategic infrastructure projects of regional importance."
The IMF has two key concerns about the new port. "The first area of concern in the design of this mega-project is the fact that the local joint venture company between DP World and the Autonomous Port of Dakar will also finance the land and maritime infrastructures of the new port," says Mesmin Koulet-Vickot, the fund's resident representative for Senegal. "These are budgetary activities in essence and should therefore be financed or carried out by the state. The second concern is the attendant fiscal risks and contingent liabilities that need to be carefully assessed and monitored."
Following the plan
The nation's strong economic performance between 2013 and 2019 has been credited to the government's ambitious national development plan, the Plan for an Emerging Senegal, which aims to turn it into an emerging country by 2035. It has three pillars: structural transformation of the economic framework; promotion of human capital; and good governance and rule of law.
The country is expected to finalise its public-private partnership (PPP) framework soon. Foreign investors should be able to invest in an array of infrastructure areas under the new PPP structure including roads, rural electricity, housing and water desalination plants.
"I think the new PPP rules could be a game changer for foreign investment into the country once they are fully implemented," says Ms Billing. "UK companies are expressing a strong interest in participating in these projects."
Senegal is not the only country in west Africa with ambitious plans for port expansion. Since 2017, Swiss container terminal operator Terminal Investment Limited has invested $380m in expanding the container port at Lomé, the Togolese capital. A joint venture between Bollore, a French logistics company, and APM Terminals, a Dutch container terminal operator, has secured $1.5bn in funding for an expansion of the Tema port in Ghana.
The $1.5bn Lekki Deep Seaport, close to Lagos, Nigeria, is expected to open in the first quarter of 2023. The port's first phase is being part-financed by a $629m loan from the China Development Bank. China Harbour Engineering, a subsidiary of China Communications Construction Company, is undertaking its construction work.
Source : fdiintellegence.com