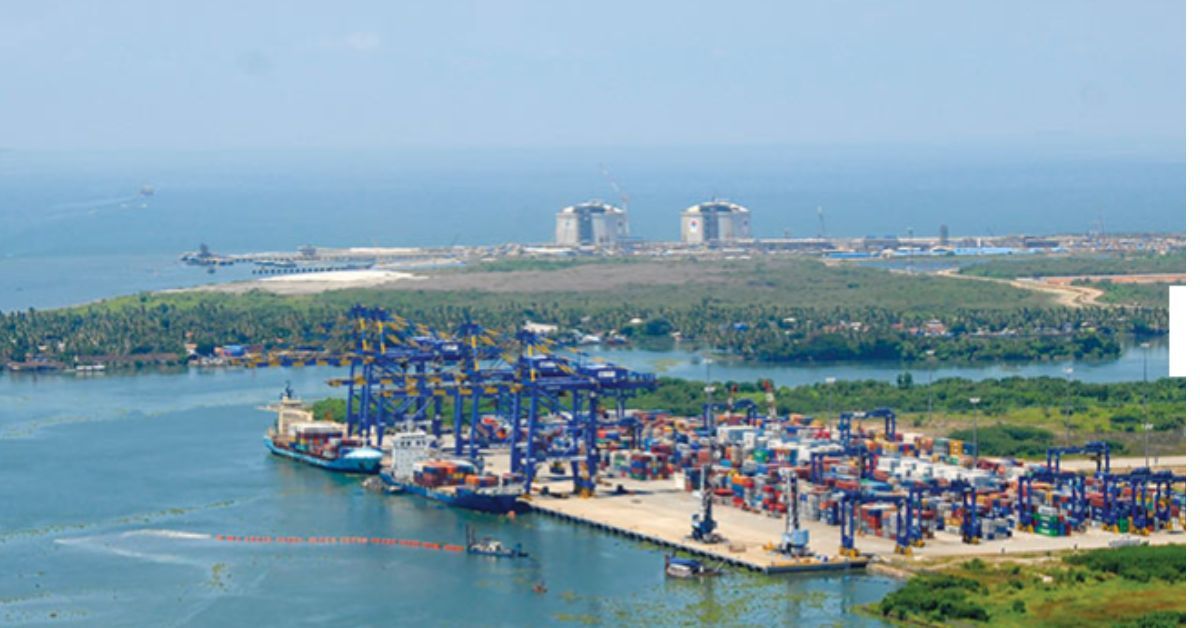 DP World's Vallarpadam Terminal braces up for competition as Vizhinjam set to give tough times ahead
KOCHI : DP World Ltd-run international container transhipment terminal (ICTT) at Vallarpadam in Cochin Port is bracing up for competition as a new deep water and better located facility with flexibility to levy competitive marine charges gets ready to start operations a few nautical miles away at Vizhinjam next year, giving tough times to the Dubai-government owned global port operator.
DP World will install six new cranes, including two ship-to-shore mega max cranes at the ICTT and is banking on the first Free Trade Warehousing Zone development in Kerala and the first to be co-located alongside a terminal, to boost volumes, a top official has said.
"The arrival of six new cranes (including 2 STS mega max cranes) in a few weeks (Q4 2023) will be an important milestone for the terminal to enhance capacity," Praveen Joseph, Chief Executive Officer – Ports & Terminals – Cochin, DP World Subcontinent, said.
"As a terminal in India that is based in a special economic zone (SEZ), the ICTT also serves as an economic hub. The proposed DP World owned and operated Cochin Integrated Business Park (Q1 2024) will be the first Free Trade Warehousing Zone development in Kerala and the first one to be colocated alongside a terminal in the country. The synergies between ICTT and Cochin Integrated Business Park is expected to significantly enhance trade possibilities for international and domestic businesses and expand their markets," Joseph said in response to a query on how the ICTT planned to deal with competition from the opening of the Vizhinjam transhipment port.
After investing some Rs2,000 crores and offering a slew of other "concessions", India's first international container transhipment terminal (ICTT) at Vallarpadam in Cochin Port, will likely stare at an uncertain future after tycoon Gautam Adani's port unit commissions the container transhipment port at Vizhinjam in March, shipping industry sources said.
"The international container transhipment port at Vizhinjam will be a game changer," said an executive with a container feeder shipping company based in Singapore. "It will have a huge impact on DP World's facility at Vallarpadam," he added.
Like Vallarpadam ICTT, Vizhinjam will be a container transhipment facility, designed to cut India's dependence on neighbouring Colombo Port to send and receive container cargo, thereby saving time and extra costs for India's exporters and importers.
Vizhinjam is located some 10 nautical miles away from the international shipping route and due to natural deep waters (20 metres within a nautical mile), it can cater to very large container ships with a capacity to carry over 24,000 twenty-foot equivalent units or TEU's.
"APSEZ has no liability to share revenue with the Kerala government for the first 15 years of starting operations. Adani's investment in the project is also not much. Besides, it is getting Rs1,635 crores as viability gap funding, shared equally by the Centre and the Kerala government. Hence, Adani can mitigate the high vessel related charges generally prevailing at Indian ports compared to other regional ports and offer competitive vessel related charges to attract shipping lines and compete with Colombo," the executive at the container feeder shipping company said.
Distance-wise, Vizhinjam is the same as Colombo for India's EXIM trade. "This will help Vizhinjam attract container cargo from Kolkata, Visakhapatnam and Tuticorin ports currently transhipped through Colombo Port," he added.
The Vallarpadam ICTT has been struggling since its February 2011 start to garner any meaningful transhipment volumes to dent Colombo's stature in this business.
The transhipment volumes handled by the DP World facility was a paltry 5 percent of the total volumes till FY20.
In FY21, it rose to 13 percent and in FY22, it hit 21.23 percent as the export-import trade diverted cargo to Cochin Port following a labour strike in Colombo Port.
In FY23, the 1.2 million TEU-capacity ICTT handled 6,95,230 TEU's, of which the transhipment volumes were 1,04,666 TEU's or some 15 percent.
In the first half of the current fiscal, the ICTT handled 3,58,427 TEU's of which the transhipment volumes were 47,054 TEU's.
"The terminal's transshipment volumes have witnessed steady growth over the years and as of September 2023, contributes to about 17 percent of the total volume. This has enabled the terminal to establish itself as the largest transshipment terminal in the South and East of India," Joseph stated.
The Central government and Cochin Port Authority invested more than Rs2,000 crore on the project to provide basic infrastructure such as four-lane road, rail link and dredged the channel to 15.95 metres to accommodate 14.5-metre draft ships.
The ICTT deal, according to the Cochin Port Joint Trade Union Forum (CPJTUF), broke the back of the Port Authority which spent more than Rs1,000 crores since FY2011 for maintaining the navigational channel.
Cochin Port Authority spends close to Rs90 crore every year from internal resources just to maintain the current depth of the channel. This is one of the main reasons why the port authority has not been able to build up cash reserves for development works.
The other "sacrifices" made by the port authority to make the project a success include granting 86 per cent concession in Vessel Related Charges (VRC) to help ICTT compete with Colombo Port. This translated into a revenue loss of about Rs577.23 crore to Cochin Port Authority till FY22.
Besides, in 2018, following strong lobbying mainly from foreign container lines, the Ministry of Ports, Shipping, and Waterways allowed foreign flagged ships to carry export-import (EXIM) laden containers meant for transhipment and empty containers meant for re-positioning on domestic routes, without a license from the Directorate General of Shipping.
Only Indian registered ships are allowed to ply on local routes for carrying cargo, according to India's so-called cabotage law. Foreign ships can operate along the coast only when Indian ships are not available after taking a license from the DG Shipping, according to the decades-old law designed to protect domestic ship owners.
Easing the cabotage rules was again aimed at improving the fortunes of the Vallarpadam ICTT.
However, these facilitating measures did not yield any commensurate benefit to the port authority and the nation.
Annually, around 3 million TEUs of India-bound cargo containers are transhipped at Colombo, Singapore, Port Klang, Salalah and Dubai, according to government estimates. Colombo, Singapore, and Port Klang handle more than 85 percent of this with Colombo alone handling about 2.5 million TEUs.
"Instead of a container transhipment terminal, the Vallarpadam ICTT has become more of a gateway terminal through which containers are shipped directly to destinations without being transhipped at another port enroute to their final destination," said a shipping industry source.
"DP World's ICTT at Vallarpadam has over the years, positioned itself as a gateway to international trade that connects the whole of South India to other parts of the country as well as to international markets," said DP World's Joseph.
ICTT handles a diverse cargo mix that includes EXIM, domestic and transshipment freight, Joseph noted.
ICTT, he said, has direct services to more than 12 Indian ports on both coasts, in addition to multiple international ports, delivering seamless connectivity to customers. These include direct connectivity to the Middle East, Far-east, Europe and the Mediterranean making it one of the best connected terminals in the South of India.
Unlike other port contracts at Union government-owned ports, the ICTT deal does not have a minimum guaranteed throughput (MGT) clause written into the concession agreement and this has drawn flak from critics.
Lack of deep draft and high vessel related charges have been cited for ICTT's failure to achieve the objective for which it was designed.
A potential deal with MSC will help APSEZ underwrite the volumes for the One million TEU's capacity first phase of the international container transhipment port at Vizhinjam, shipping industry sources said.