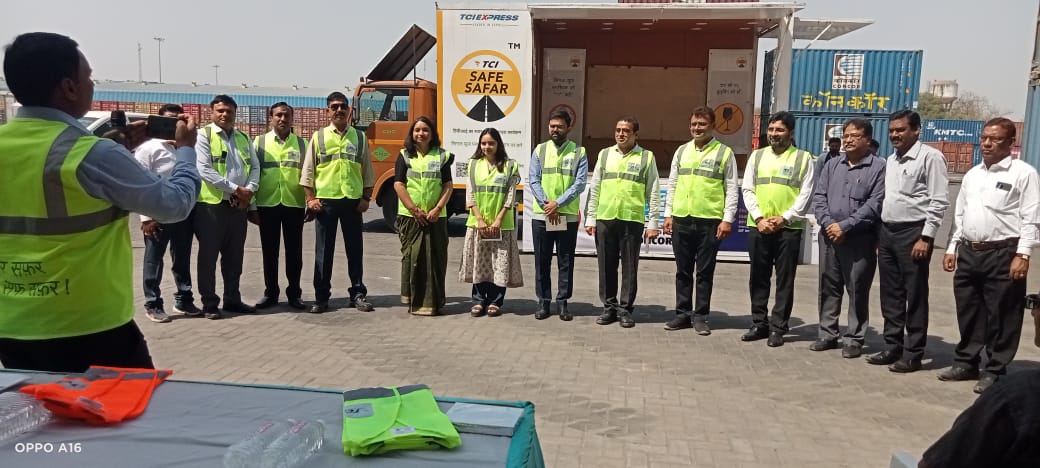 Drivers' Health and Safety Awareness Programme organised at CONCOR ICD Khodiyar – A Collaborative efforts by CONCOR, TCI Express, ACBA and CILT-India
AHMEDABAD : With the collaborative efforts of Container Corporation of India Ltd (CONCOR), Transport Corporation of India (TCI), Ahmedabad Customs Brokers' Association (ACBA) and Chartered Institute of Logistics and Transport (CILT), an event on Road Safety, Drivers' Health, Road etiquettes, drivers' welfare, Swatch Bharat (Clean India) for the Drivers visiting CONCOR ICD Khodiyar was conducted on 27th February 2023.
This was an excellent eye-opening programme for the Truck, Trailer and other handling equipment Drivers by TCI Safe Safar. TCI, a logistics company aims through its 'TCI Safe Safar' programme, creating awareness about health & safety amongst millions. The Programme's main attraction was a specially fabricated eco-friendly truck to engage with its key audience i.e. the truck drivers and members of the transport community. The programme comprised of various skits "Nukkad Natak" about avoiding alcohol during driving, avoiding single use plastic, Avoiding Mobile phones during driving, Road safety, Road etiquette, etc. In addition, all present Drivers, workers and invitees from ACBA, TCI, CONCOR and CILT Members have taken pledge on Health & Safety while driving.
The event was graced by Mr. Minaz Nizami, Dy. Commissioner of Customs, Mrs. Vimal Shah Patel, Dy. Commissioner of Customs, Mr. Vishal Patil, Chief Manager, CONCOR ICD Khodiyar, Dr. Darshan Mashroo, Hon. Secretary, ACBA, CILT Members Vaibhav Shah, Rachna Gangawar, Chetan Malkan, Ajay Nair, Mr. Pradeep Sharma, Asst. Vice President, TCI, Mr. Anand Pandey, Terminal Manager, and Sunil Kumar, AM/C&O, ICD Khodiyar and senior trade members and press media.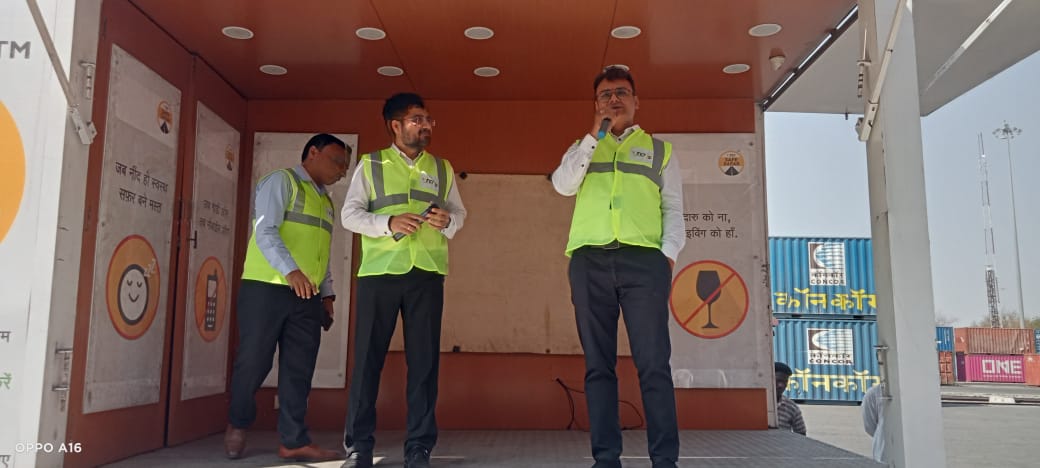 About 1,55,000 lives are lost and 4,03,000 are injured on Indian roads in 2022, due to road accidents and numbers are almost similar every year. That's the price India pays every year.
Safety is the utmost priority of every organisation and such event will strengthen the safety mission across the country. The message through such awareness programme will leave deep impact on the driver fraternity and will definitely help them improve their driving etiquettes.
The programme aims to
Encourage people to follow health & safety norms
Create and enhance a safe working environment for everyone
Make India's roads safer, every single kilometer at a time
The programme was concluded with distribution of Safety Jackets, Medical and Hygiene kits to the Truck and other handling equipmentDrivers and light refreshment by ACBA. The programme was enjoyed by the Drivers/workers present at the event and well praised by the Customs senior officers, CONCOR officers, Members from ACBA and CILT members who graced the event and encouraged the trucking community.