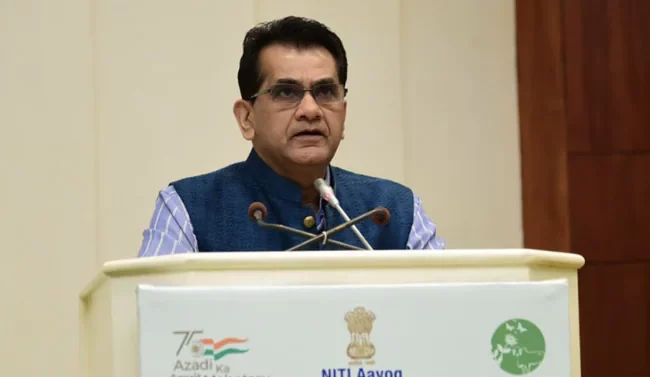 Duty-Free : Amitabh Kant advises minimum duty on certain imports for maximum exports
NEW DELHI : India should scrap import duties on inputs used in the manufacture of products that are exported, particularly high value-added items like smart phones and electric vehicles, G20 Sherpa Amitabh Kant said.
"India must be an integral part of global value chains; that's how business is done across the world. And that means you will have to import thousands of items for the end-product to be manufactured here," Kant told in an interview, adding that these components should attract zero duty so that the end product remains cheap.
Kant, who was the secretary of the Department for Industrial Policy and Promotion (DIPP) from 2014 to 2016, said that while India can increase the duty on products meant for domestic consumption, such as furniture, food items, etc., exports should be competitively priced.
India is witnessing exponential growth in the exports of smart phones, with the India Cellular and Electronics Association (ICEA) is reportedly expecting India to cross 1,20,000 crore in mobile phone exports in the current fiscal year driven by tech giant Apple and on the back of friendly government policies and production-linked incentive (PLI) Scheme.
Media reports recently said that New Delhi is looking to cut duties on the imports of completely-built units (CBU) of electric vehicles (EVs) for up to five years, as it tries to entice the likes of Tesla Inc. to sell and eventually make its cars in the country.
The Tesla dilemma
Even as Kant bats for zero import duties on raw materials used in products that are exported, he says that things are not quite as simple when it comes to providing tax incentives to lure the likes of Tesla to make in India.
According to Kant, the challenge with Tesla's vehicles is that it is difficult to dismantle and reassemble them. For imports of fully-built EVs, India imposes duties in the region of about 135 percent to 40 140 percent, unless it is dismantled and assembled within the country, he added.
"Our aim should be that Tesla should manufacture in India, but Tesla says that it wants to test the market for three years, and it wants India to make the duty the same as for cars assembled here. I think we should lay out a roadmap, that we are willing to do this for a particular period of time, subject to Tesla manufacturing in India, because the EV market is expanding here," Kant told.
Eventually, Tesla should make EVs for the Indian market, which are then exported to the world, he added.
Media reports recently said that the Indian government is working on an EV policy that would allow international car manufacturers to import battery-powered vehicles at concessional rates, if they commit to eventually building them in India.
Tesla is seeking to break into one of the world's most promising auto markets, where the demand for EVs is rising. For India, Tesla's investment would aid the government's push to increase the share of manufacturing in the nation's GDP, while also creating jobs.
India's electric car market is at a nascent stage, with EVs accounting for just 1.3 percent of the total passenger vehicles sold last year, according to Bloomberg. The adoption of EVs in the country has been held back by the high cost, a dearth of options, and lack of charging stations.