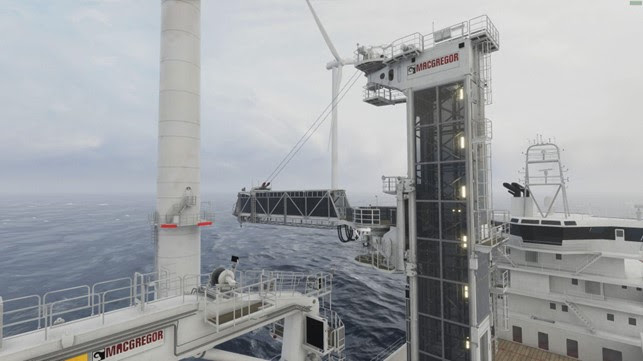 Edda Wind repeat order confirms as offshore wind service vessel technology of choice
FINLAND : MacGregor, part of Cargotec, has extended its run of orders for walk-to-work gangway technology from Edda Wind, after receiving a contract to equip the 8th service vessel in succession for the Østensjø Group operation. The new walk-to-work system contract was booked into Cargotec's first quarter 2023 orders received and the vessel will be delivered in the third quarter of 2024.
Once again, the vessel will be equipped with MacGregor's distinctive Horizon, all-electric walk-to-work gangway – the sector-leading sustainable technology whose ability to deliver lowest possible emissions significantly reduces the vessel's overall environmental footprint. The redundancy level of the equipment exceeds class requirements, ensuring the minimum level of unplanned downtime.
The Horizon gangway also ensures optimised logistics flow, offering the widest gangway bridge currently available and the largest passenger lift integrated on a gangway tower structure, which offers stepless connection from deck levels to gangway level. Its safety and efficiency are enhanced by an augmented reality operator station (AROS), which also increases logistics support by allowing a single operator to seamlessly change between crane and gangway operation from a centralised control station on the vessel's bridge. The system is also interconnected to a Colibri 5 tonne 3D motion compensated crane, whose design is distinguished by its agility in compensating loads in 3D mode.
The order is a result of MacGregor's long collaboration with Edda Wind, and MacGregor's involvement from an early design stage has ensured that the position of the equipment is optimised for overall vessel efficiency.
"MacGregor is delighted to have yet another order to supply critical equipment to the Edda Wind newbuildings," says Pasi Lehtonen, SVP, Offshore Solutions Division. "This is the 8th in the series of walk-to-work systems delivered to Edda Wind. We acknowledge the market validation of our capabilities in equipping this type of SOV system globally. It also reaffirms our strong commitment to provide enhanced sustainable solutions and services to our customers."