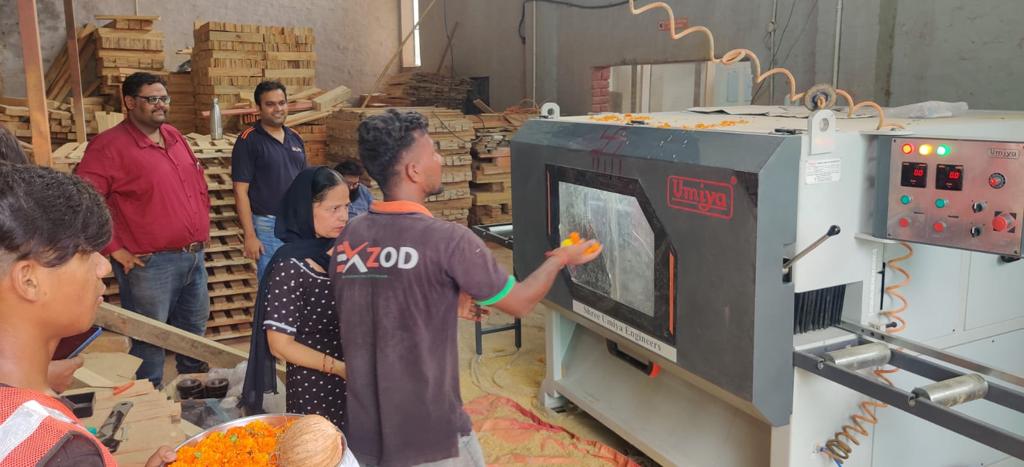 EXZOD India has revolutionised pallet manufacturing in India
MUMBAI : The pallet industry has been working to find new ways to keep the supply chain moving. Leading the change is EXZOD India, a leading player in pallets manufacturing, sale, and AMC. It has revolutionised pallet manufacturing in India to highlight the environmental virtues of wooden pallets.
Nitin Kalla, Founder and Managing Director, EXZOD India says wooden pallets have become the go-to for many customers because of their sustainability and durability.
"Wood is a natural resource and is locally available. Compared to soft imported wood, wooden pallets are economical and highly customizable. Plastic pallets are 2.5x expensive in contrast to wooden pallets. Besides, wooden pallets are 100% recyclable and good for the environment. Wood has always been a safe, durable, sustainable and cost-effective material for pallet design, as it is repairable, recyclable and reliable."
At the same time, the company recognizes the need to educate customers and the public of product eco-friendliness.
"We are focused on delivering sustainable solutions that align with our customer needs. Our portfolio of products is evolving to meet the changing market needs by also looking to develop the right products at the right price to meet supply chain demands," added Nitin Kalla.
EXZOD provides wooden pallets and packaging boxes used for storing and moving finished products / raw materials in industries such as FMCG, Retail, Automobile, etc. The company aims at managing a pool of assets pallets, which it intends to maintain for its clients across India. AMC is a strategic business option for companies for reducing capital expenditure, repair costs and improving handling processes. The company's expertise in the supply chain space allows it to provide customized solutions as per requirement. The company provides technology embedded AMC Services which is the only organized player present in the industry. The idea is to revamp the traditional nail & hammer AMC approach with the automatic AMC approach embedded with advanced robotics.
EXZOD has three manufacturing units in Punjab, Maharashtra and Haryana equipped with state-of-the-art automatic pallet manufacturing machines and is geared up for its fourth pallet manufacturing facility in Hyderabad.
About EXZOD India Pvt Ltd
Mumbai-based EXZOD India Pvt Ltd is into in-house manufacturing, sale, renting and AMC of pallets. Founded in 2018, EXZOD provides returnable and customized packaging solutions used in storing and moving products across the supply chain in various industries. EXZOD has successfully partnered with ~75+ customers across sectors, including the likes of RK Foodland, UB, Mahindra, Trent, Patanjali etc. The company has a pan-India presence with 3 manufacturing plants and ~75+ customer touch points. The company is driven by a professional and experienced management team having vast exposure to pallets industry and supply chain management.