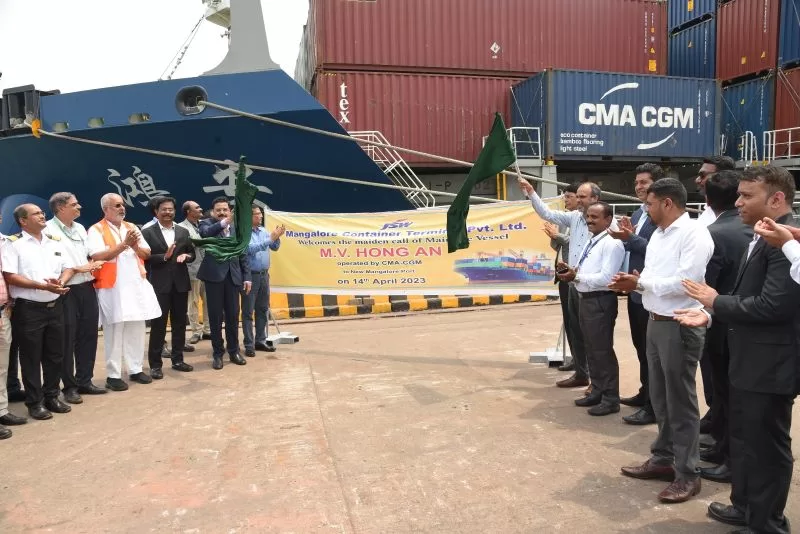 First direct mainline container vessel "mv Hong An" calls at New Mangalore Port
MANGALORE : The first direct mainline vessel "mv Hong An" called at the New Mangalore Port on Thursday, after the port operationalised its dedicated container terminal.
The regular service vessel will operate between the westbound rotation of Chittagong- Colombo-Mangalore-Nhava Sheva-Mundra; and the eastbound leg to Jebel Ali-Khalifa Port, said a release. It is the only direct service for Indian exporters to Jebel Ali and Abu Dhabi with seamless connections to the USA, Europe, South East Asia, and Africa.
NMP Authority Chairman A.V. Ramana inaugurated the first Direct Mainline Service from New Mangalore Port by flagging off the container discharging from the vessel in presence of Sagar Dange, Head India Operations CMA-CGM; Ramanathan, Vice -President and Unit Head, JSW Mangalore Coal and Container Terminals, officers from NMPA, official's from JSW-MCTPL, CMA-CGM, and Port Users.
The mainline service got introduced primarily as a result of the use of various productivity measures to free up berth time for new services through the establishment of a fixed window berthing policy and the extension of additional inducements in the form of commercial rebates on vessel-related costs.