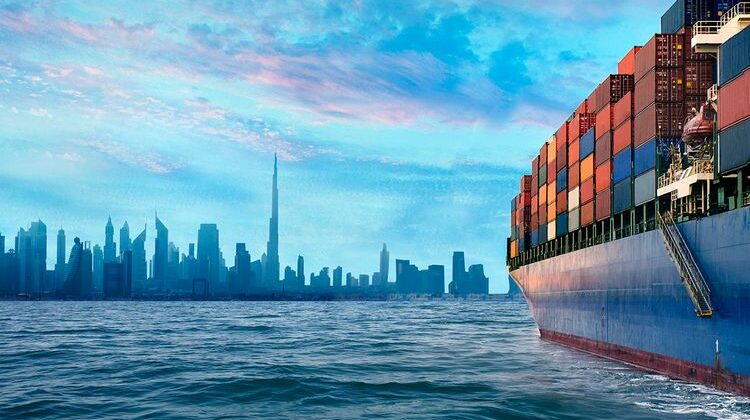 Freight rates on Indian trades continue to cool amid falling export volumes
MUMBAI : Container freight rates on trades out of India have continued to cool, albeit at a slower pace on shipments to Europe, according to the latest market analysis by Container News.
On the westbound India-Europe trade, average contract rates from West India [Jawaharlal Nehru Port (JNPT)/Nhava Sheva or Mundra Port] to Felixstowe/ London Gateway in the United Kingdom or Rotterdam in the Netherlands have softened to US$1,250 per 20-foot container and US$1,450/40-foot container, from US$1,300 and U$1,600, respectively, at the end of December.
For West India-Genoa (the West Mediterranean) cargo, average rates have plunged to US$1,200/TEU and US$1,350/FEU, from the December levels of US$1,500/TEU and US$1,600/FEU.
Eastbound cargo (imports into India) prices for these port pairings, however, have remained relatively steady month-on-month. According to the analysis, rates now stand at US$1,300/20-foot box and US$1,400/40-foot box for bookings from Felixstowe/Rotterdam, down from US$1,400 and US$1,600, but have seen changes for Indian cargo to the West Mediterranean (Genoa) – hovering at US$1,150/20-foot container and US$1,400/40-foot container.
Average short-term contract prices for Indian cargo moving to the US East Coast (New York) have seen a further steep slide from the December levels – dropping to US$2,550 per TEU, versus US$3,700, and US$4,150 per FEU, from US$5,050 and to US$1,850/TEU, from US$2,075, and US$2,650/FEU, from US$3,050, for shipments to the US West Coast (Los Angeles).
For the West India-US Gulf Coast trade (Houston), rates on average have fallen to US$3,675 per 20-foot and US$4,950 per 40-foot container, compared with US$3,850 and US$5,250, respectively, during December.
On the return direction, average contract rates saw no changes from the levels maintained by major operators in December, with the exception of USEC-West India bookings. According to the CN analysis, rates now stand at US$855/20-foot box, down from US$910, and US$1,100/40-foot box, down from US$1,125, from USEC; at US$2,484/20-foot box and US$ 3,193/40-foot box from USWC; and at US$1,770/20-foot and US$1,843/40-foot box from the Gulf Coast, into West India (Nhava Sheva/Mundra).
Rates on intra-Asia trades out of India have also seen declines from the December averages, with West India-South China levels down to US$240/20-foot box and US$365/40-foot, versus US$257 and US$382, respectively, a month ago, the analysis showed.
Average contract rates for bookings from West India (Nhava Sheva/JNPT or Mundra) to Shanghai (Central China) have dipped to US$100 per 20-foot container, from US$125, but have remained unchanged at US$130 per 40-foot box. For Indian cargo to Tianjin (North China), rates are now hovering at US$125/20-foot and US$250/40-foot container, down from US$150 and US$300 in December.
For Indian shipments to Hong Kong, major carriers are accepting bookings at US$100/20-foot container, versus US$125, and US$130/40-foot container, flat with the December trendline, according to the CN analysis.
December rates on West India-Singapore cargo remained unchanged at US$50/20-foot container and US$100/40-foot box, month-on-month.
Contract rate levels on the return leg continued to drop, with the slide averaging around 20% for bookings from Tianjin to West India from the December levels, according to the CN analysis.
Aligning with the CN analysis, Indian merchandise exports took a 12% hit in December in value terms, according to government data.
"The decline in merchandise exports is a reflection of the toughening global trade conditions o¬n account of high inventories, economies entering recession, high volatility in currencies and geopolitical tensions," said A Sakthivel, President of the Federation of Indian Export Organisations (FIEO).
He further noted that "The drop in commodity prices and restriction of some exports, with a view to stem the price increase in the domestic market, have also affected the growth numbers."
Meanwhile, Indian industry leaders are pinning hopes on the federal government budget to be announced on 1 February.
"The budget for Financial Year 2023-24 is expected to catalyse implementation of efficiency boosting projects under the umbrella of Gati Shakti and National Logistics Policy, which will bring India a step closer to its export vision of US$2 trillion by 2030," said Rizwan Soomar, CEO and Managing Director of DP World Subcontinent, in a statement.
Soomar went on to explain, "Adequate budgetary allocation to capital expenditure projects, spread across roads, railways and ports, will be essential for encouraging logistic infrastructure development, creating resilient supply chains and spurring private investments."
He added, "The government continues to launch multiple initiatives to facilitate ease of doing business in the country and we are confident that the budget will also propose necessary regulatory improvements to infuse confidence in investors aligned with development of logistic infrastructure in the country."
Christian Roeloffs, co-founder and CEO of equipment marketplace, Container xChange, has called for a greater digital push in the budget announcement.
"The biggest impetus should be given to creating an improved ecosystem for the digital supply chains of the future," Roeloffs pointed out.
He added, "This ultimately will improve the efficiency and competitiveness of the Indian economy, enabling businesses to take advantage of new technologies to improve efficiency, reduce costs, and increase competitiveness."
He went on to explain, "Specifically, digitising manual processes, such as using digital forms and software to track and manage inventory, can help to reduce logistics costs. And by automating processes, companies can reduce the need for manual labour, which can lower costs and improve efficiency. Additionally, digital systems can provide real-time data and analytics, which can help companies make more informed decisions about logistics and supply chain management."
Source : Container News