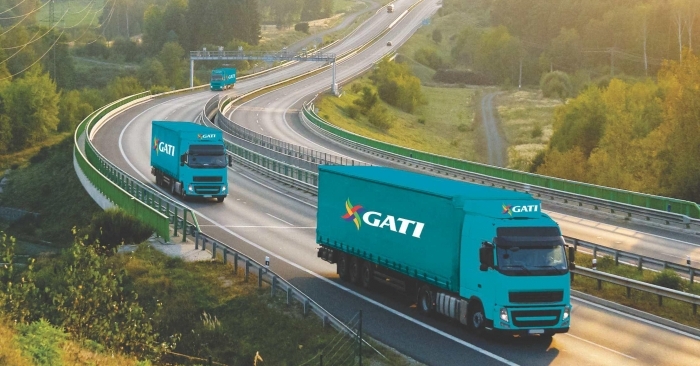 Gati to double revenues to Rs 3,000 crore in next three years
MUMBAI : Gati, an Allcargo Group company, intends to double revenues to ₹3,000 crore in the next three years as it expects a strong growth in the logistics sector, even as the company is embarking on a digitalisation process. By 2025, the firm intends to do all its last mile deliveries and pick-ups using electric vehicles, a top official said.
"At present, Gati is moving 1.5-lakh tonne of goods per month. We are targeting revenues of₹3,000 crore by 2026 and to do that we have to double our tonnage to 2 lakh tonne, and surface transport is a high-volume, low-margin and low-revenue game. So, you have to keep on increasing your tonnage for which you need good logistic infrastructure," its Chief Executive Officer Pirojshaw Sarkari said. "There is also a "tremendous" growth expected in the country due to the Production Linked Incentive scheme in the manufacturing sector", he added.
"This is because manufacturers have to bring in raw materials, store them, and then have to store the finished goods and transport them. Increase in manufacturing means increase in logistics too," he added. Gati, which launched a surface transhipment centre and distribution warehouses (called hubs) at Bhiwandi on the outskirts of Mumbai, intends to launch 8 such hubs in the next two years. The company would invest a total of Rs 40 crore for the hubs, of which four would be completed in FY24.
The company had already launched four hubs in FY23. On an average these hubs are of 1 lakh sq ft of area, while the larger ones are of 1.5 lakh sq ft each. "When we acquired Gati, we found the logistics infrastructure, mainly the hubs, the company had will not help us to grow to the next level. To be the market leader, we need to spruce up infrastructure, as our business is a committed time-and-transit promise to our customers, and if we don't have good infrastructure, then we cannot turn around the trucks on time," he pointed out.
Gati is also looking at doing all pick-up and deliveries (last mile, not trucking) using only EVs by 2025, when the environment would be more conducive for electric vehicles. The company's focus for the next couple of years would be the SME segment.
"We have identified the segment as a growth engine not only for us, but also for the country overall. As a group, I can provide all the logistic support to the SME segment, not only in the domestic segment but across to international destinations through Allcargo," Mr. Sarkari added.
He further added that "SME comprises 20% of our total revenue, and we want to double this too," Sarkari added. At present, Gati has 3,000 permanent employees and 1,500 contractual employees. "For the last three years, the company has been posting a 15% per annum growth. The industry is growing at 11-12%, and we endeavour to grow better than the industry,"