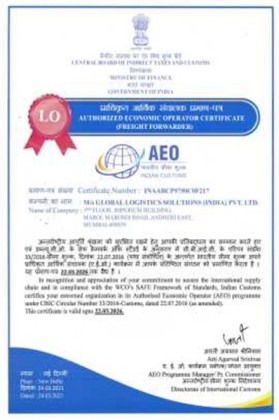 Global Logistics Solutions (India) receives coveted AEO Certification from CBIC

Mumbai – Global Logistics Solutions (India) Pvt. Ltd. added yet another feather to its cap when it
received the coveted Authorized Economic Operator Certification from CBIC on 24 th March 2021.
Global Logistics was established in 2006 by Mr. Asif Mujawar, Mr. Jiss Mathew, and Mr. Naveen
Prakash. The organization has grown from a team of 20 people in 2006 to more than 300 people with
offices in 16 locations across India. Global Logistics is connected to a client base of more than 11000
customers across the verticals of LCL cargo Consolidation, Air Freight, Express Cargo, Warehousing,
NVOCC, Project cargo, and Transportation.

Over the years, the organisation has grown into one of the largest Neutral LCL consolidators and FCL
freight forwarders in India. Global Logistics strongly realizes that clients have specific requirements
concerning their shipments. Driven by customer centricity, it, therefore, strives to understand the
specific needs of individual clients to provide customized solutions. They also regularly invest in R&D to
develop relevant customer solutions. This thrust on ensuring value to clients has resulted in immense
growth for their clients both in terms of volume as well as geographical reach. With its expansive
infrastructure, Global Logistics provides its clients with the opportunity to seamlessly operate across
locations, both within India and overseas. As a result, today, small and mid-sized forwarders heavily rely
on the Global Logistics network and technological solutions, to handle shipments in different
geographical regions, both in India and overseas, to cater to their clients.

About AEO Certification

In compliance with the WCO's SAFE Framework of Standards, Indian Customs presents the AEO
certificate to the companies only after checking and inspecting their commitments and efforts to secure
the international supply chain. It was in 2005 when the WCO adopted the SAFE Framework of Standards
to Secure and Facilitate Global Trade to restrain international terrorism, secure revenue collections, and
promote trade facilitation worldwide. And it was 2007 when they introduced the WCO's flagship
Customs-Business partnership programme, the Authorized Economic Operators (AEO) Programme.
The requirement of this appreciation brings in betterment and safety in the Supply Chain process and
also strengthens the security. This achievement indicates that the company follows strict guidelines and
protocols assigned by the respective apex body.